The Māori Freshwater Fisheries
Conference will be back in 2023
Kua mutu te huihuinga mō tēnei tau – that's a wrap for the Māori Freshwater Fisheries Conference for another year! After a three-year hiatus due to COVID, over 350 manuhiri who joined us from around the motu across the two days in Taupō-nui-a-Tia for two days of inspiring kōrero on our wai Māori taonga and their kainga.
This huihuinga provides an opportunity to kōrero and share expertise, knowledge and understanding of our indigenous fisheries and their habitat as well as identify opportunities and pathways to better protect our wai and taonga mo ake tonu.
We are excited to announce that the hui will now be held annually, with the next hui happening in 2023.
Join the pānui list below to be notified when registrations open.
Highlights from this year's hui…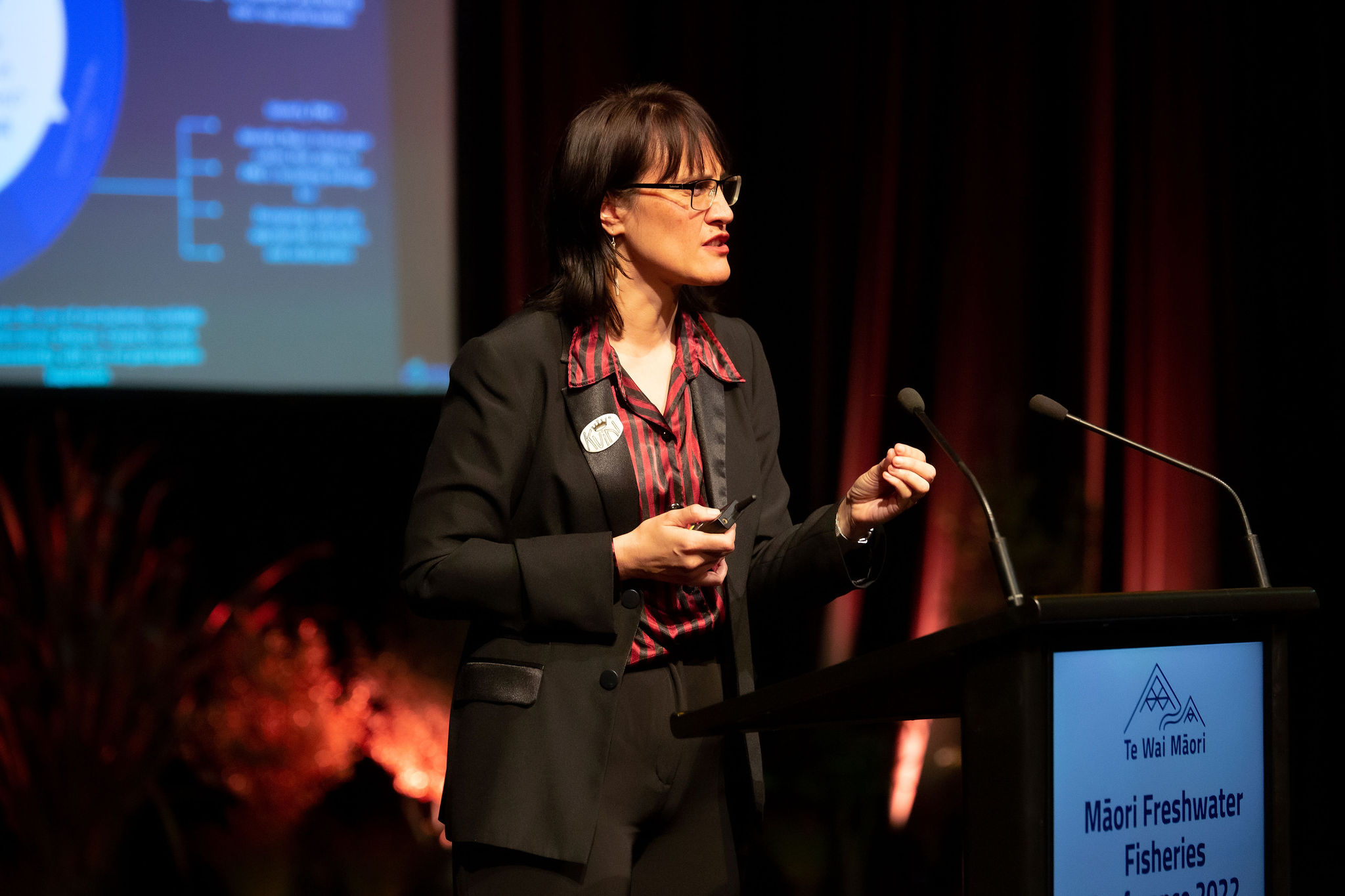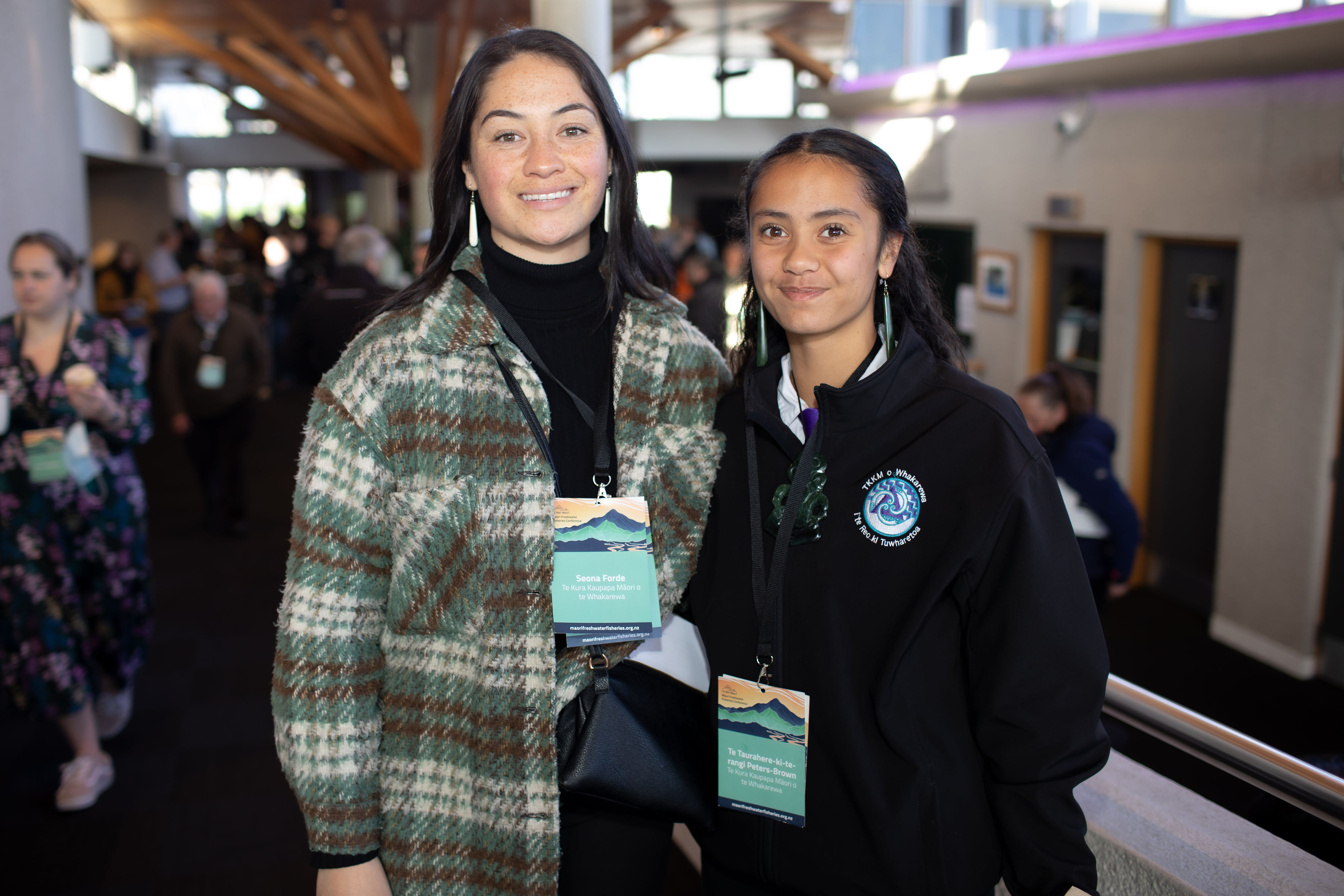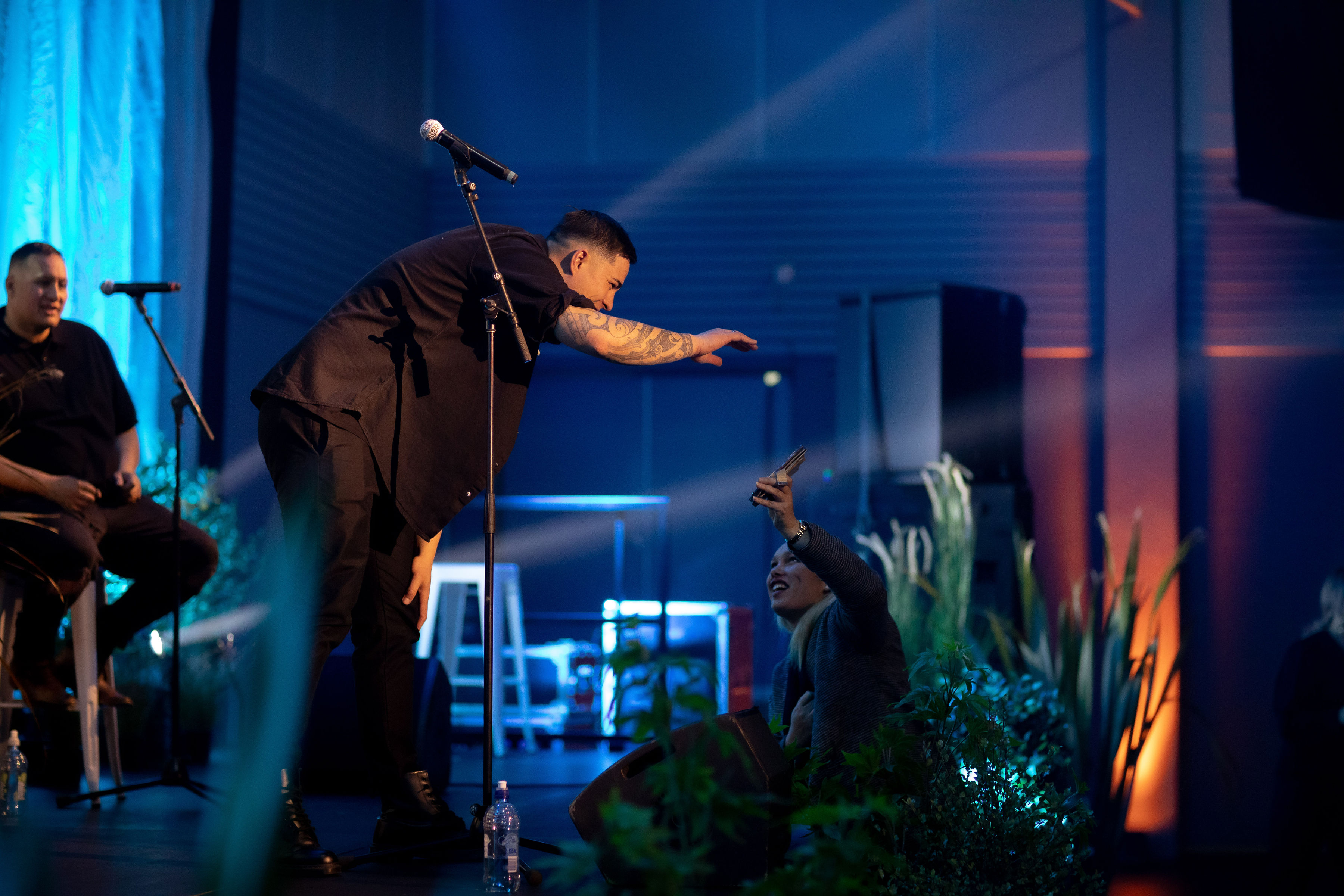 This year's theme
The year's conference theme is 'Ngā Waiherehere' – the combining of many streams, flowing out to the moana as one.
While connection through whakapapa is absolute, the global pandemic has proved that our physical connection to each other, our awa and our taonga can be impacted upon.
While humanity continues to navigate through the effects of COVID at a global scale, the time has now arrived when we in Aotearoa are lucky enough to reconnect with each other for the benefit of our people, our wai and our taonga.
Waiherehere speaks to the binding quality of our water. It provides us with life, it provides us with healing, and it is the home to our taonga. It connects our maunga to the moana, and it binds us together as a people.
Featured Kaikōrero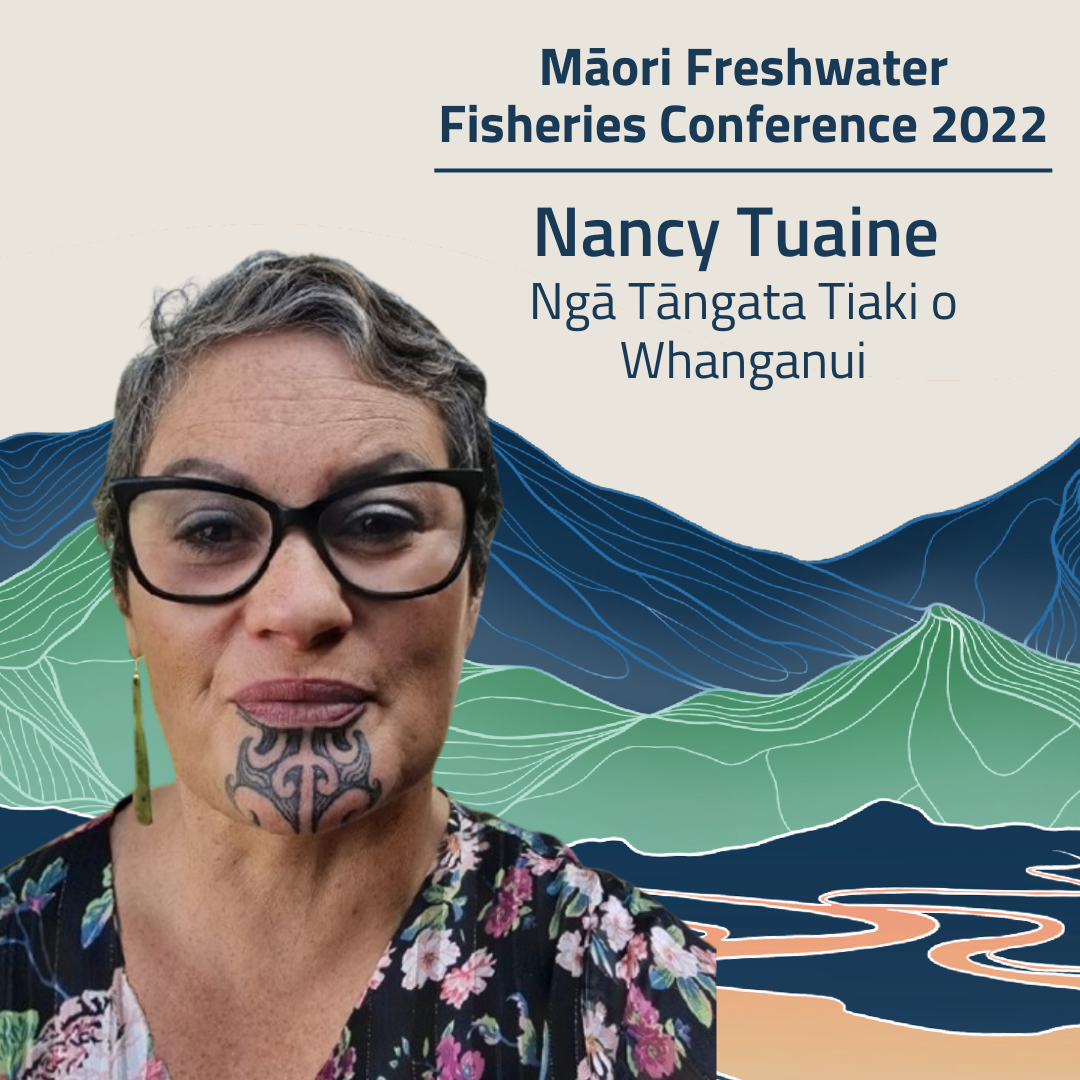 Nancy Tuaine
Te Atihaunui-a-Pāpārangi, Ngāti Rangi
Kaihautū, Ngā Tāngata Tiaki o Whanganui
Nancy is the Kaihautū, CEO of Ngā Tāngata Tiaki o Whanganui, the entity responsible for implementing Te Awa Tupua, the Whanganui River Settlement, 2017. The freshwater management and governance journey began for Nancy at the Whanganui River Trust Board in 2002 under the guidance of the late Sir Archie Taiaroa. Some of Nancy's roles over the last 20 years have included participating as and Iwi Technician on the Freshwater Reforms, an iwi representative of the Land and Water Forum, part of the negotiation team for the Whanganui River Claim and a short stint on in the Water Directorate at MFE during the drafting of the 2020 NPSF for Freshwater.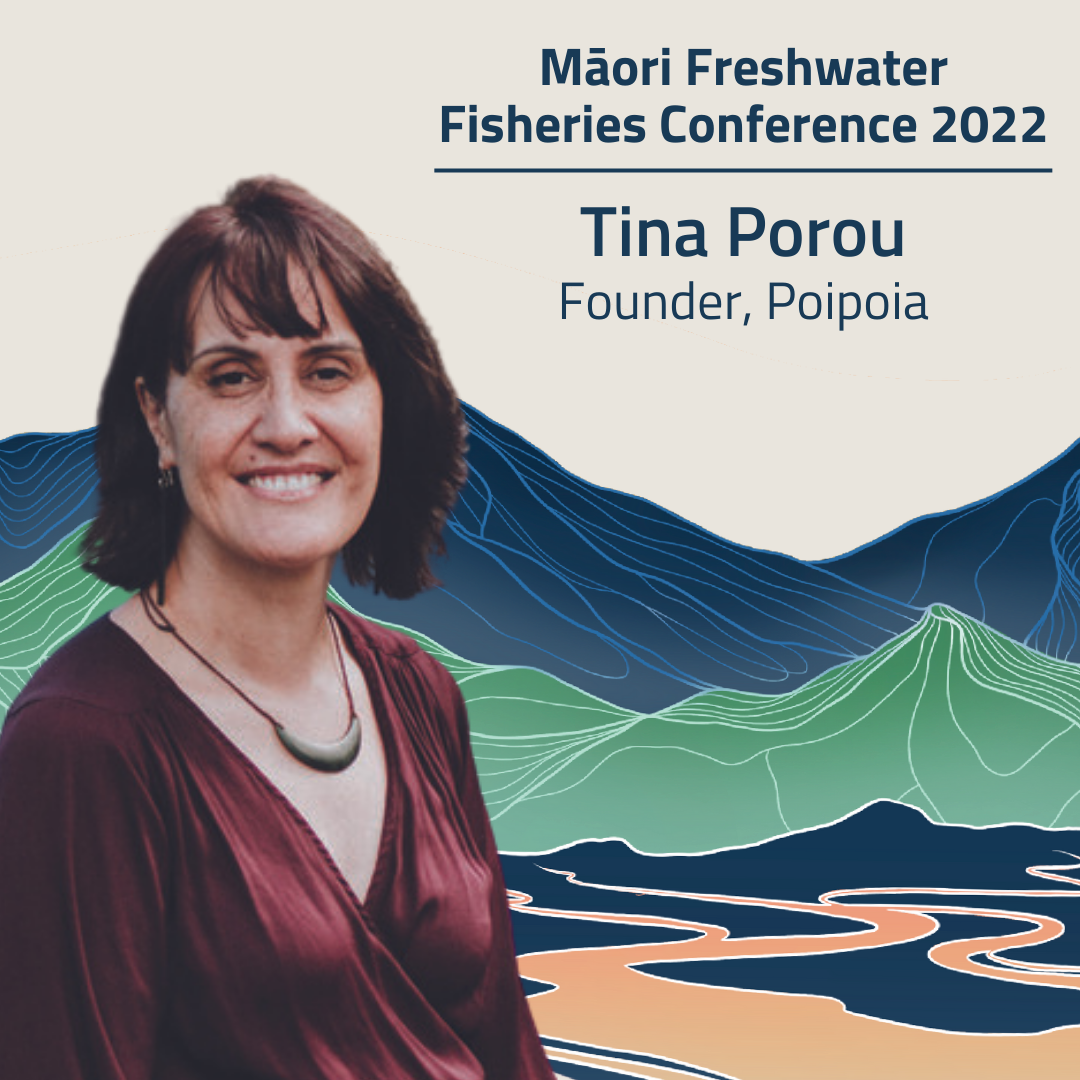 Tina Porou
Ngāti Porou, Ngāti Tūwharetoa, Ngāti Kahungunu, Ngāi Tamanuhiri
Founder, Poipoia Ltd
Tina founded Poipoia, a kaupapa Māori environmental services company. Tina has over 20 years' experience as an environmental planner and a tangata whenua advocate in the natural resource management space. Her mahi has included developing papakainga houses for social well being, facilitating environmental restoration programmes and engaging in national policy interventions on water, climate change and biodiversity. Her expertise is in connecting mātauranga Māori with technical skills in the planning field to build win-win outcomes for the environment and our sustainable businesses.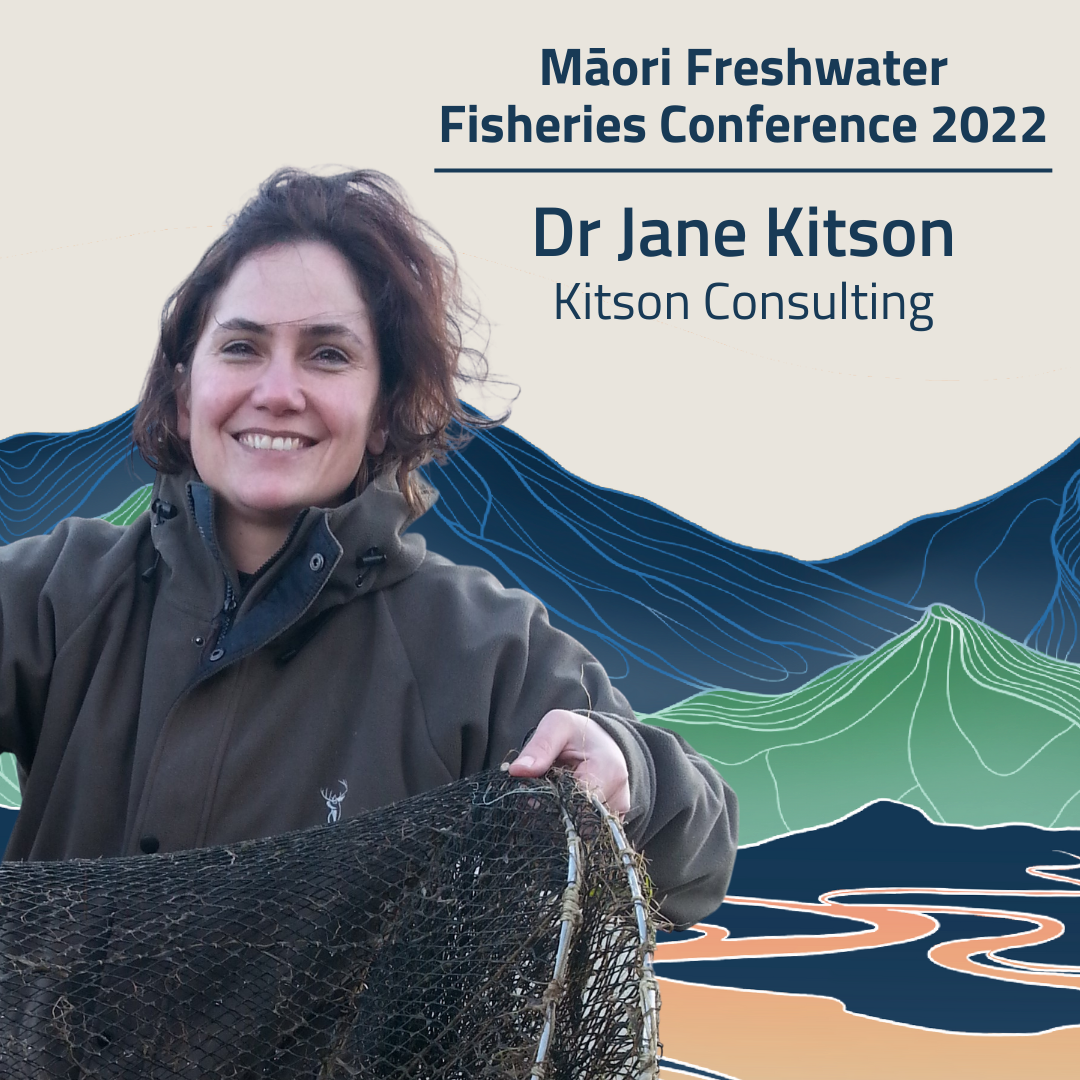 Dr Jane Kitson
Ngāi Tahu ki Murihiku (Ōraka-Aparima, Waihopai and Awarua Rūnanga)
Director, Kitson Consulting
Jane is an ecologist and environmental scientist with research interests in freshwater, mahinga kai and cultural monitoring. She is the director of Kitson Consulting Ltd an environmental that links values and science to support mana whenua in their environmental management aspirations and needs.
She is a board of member of Ngā Pae o te Māramatanga: New Zealand's Maori Centre of Research Excellence Member, a member of the Guardians of Lakes Manapouri, Monowai and Te Anau, Te Waiau Mahika Kai Trust and the Rakiura Tītī Islands Administering Body.
Research projects she is currently involved in are: Futures research programme, the Biological Heritage National Science Challenge's: SO2 Kaitiakitanga and Stewardship, and Freshwater our Taonga Special Investment Programme. She is also involved in supporting other research and monitoring programmes within her rohe.
At the conference Jane will talk about research she and Ngai Tahu ki Murihiku have undertaken on kanakana/piharau in Murihiku/Southland.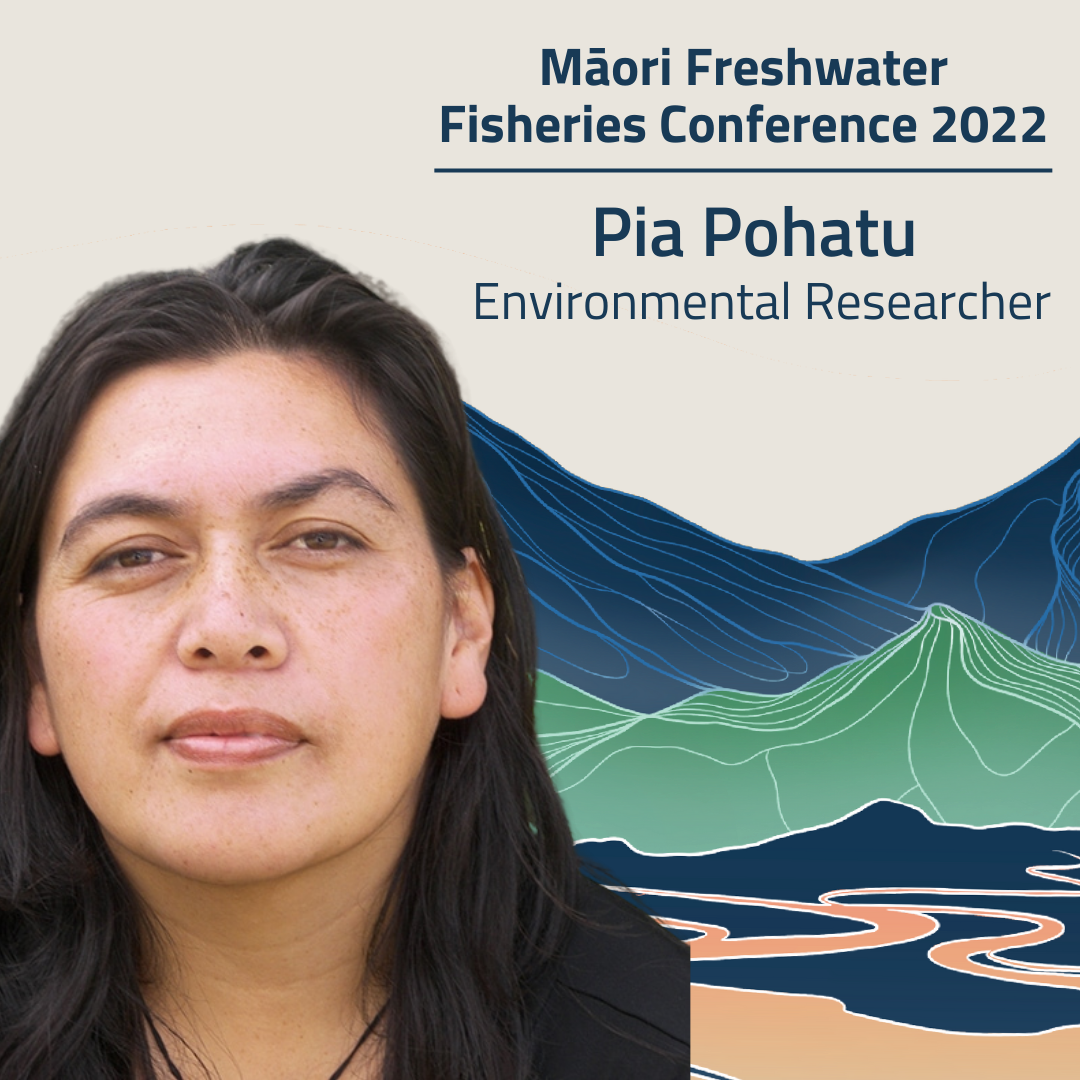 Pia Pohatu
Ngāti Porou, Rongowhakaata, Ngai Tāmanuhiri
Environmental Researcher
For the past 25 years, Pia has led and supported a range of Ngāti Porou research kaupapa from Ruatorea, promoting kaitiekitanga and the integration of mātauranga Ngāti Porou and science for catchment management, planning and land development in the greater Waiapu catchment.  Current research/ projects Pia is involved in include the co-development of the Waiapu Catchment Plan (Ngāti Porou and Gisborne District Council), Enabling Te Mana o te Wai, (Poipoia Ltd), and Huataukina o hapu e! (a project in the Tangaroa program of the Sustainable Seas Challenge).
Pia works with local whānau, marae, whenua, and hapū entities to sustain our inter-generational relationships with our whenua, wai, and moana.  Kaitiekitanga and sustainable development are central to local livelihoods and our ways of life. Kaitieki being decision-makers, hapū decision-making processes and making good decisions are important.
Outside of mahi, Pia is involved in light-earth building and is learning about rongoa and maara kai.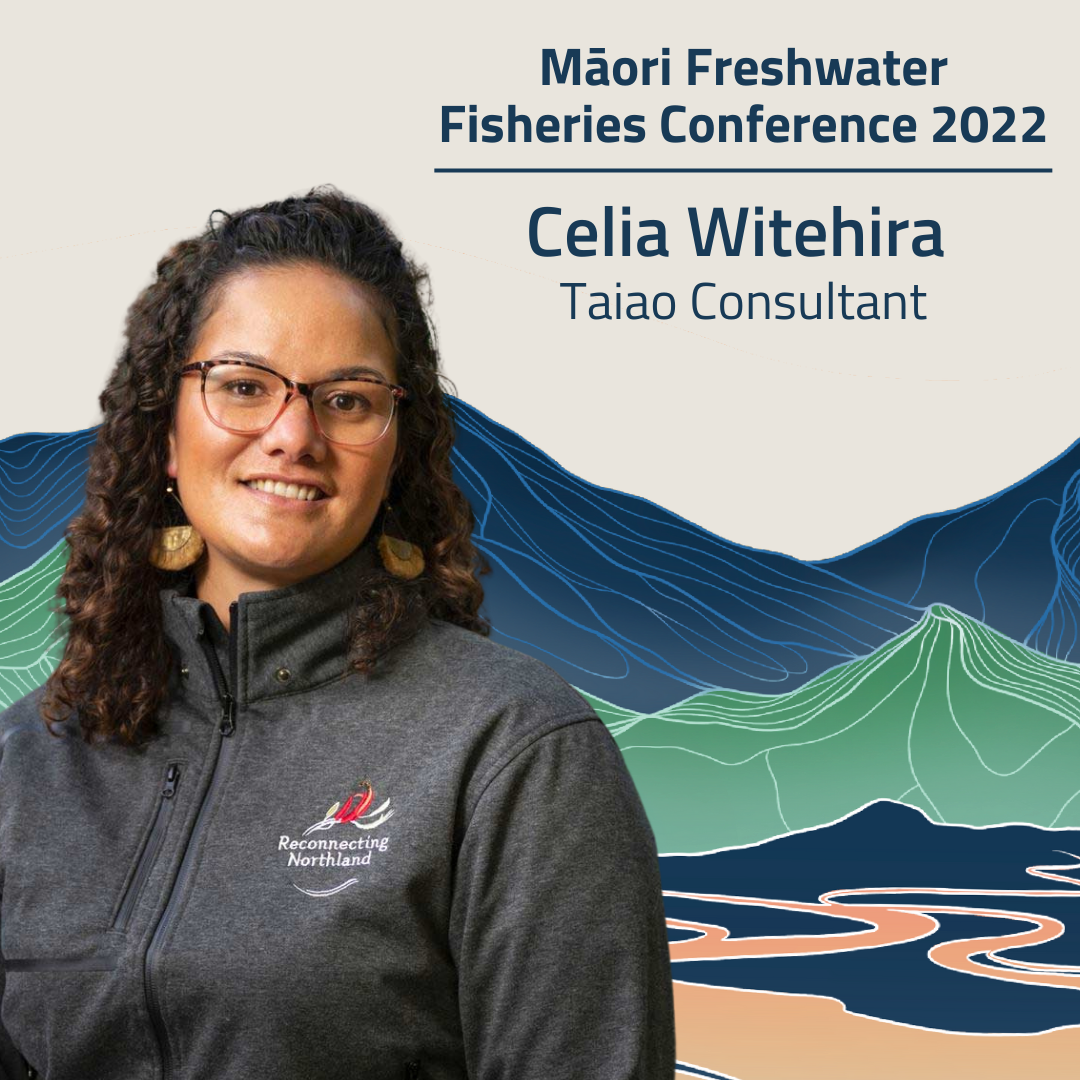 Celia Witehira
Ngāpuhi, Te Rarawa
Taiao Consultant
Celia has worked with numerous iwi and hapū throughout Northland and Waikato, assisting to provide pathways for them to actively participate in the protection and reconnection to te taiao. The majority of this time has been spent in the freshwater space. She project managed the Te Kawa Waiora Research project that was recently launched in June 2022, and worked as a consultant with Te Rūnanga o Ngāti Rēhia as their Environmental Advisor.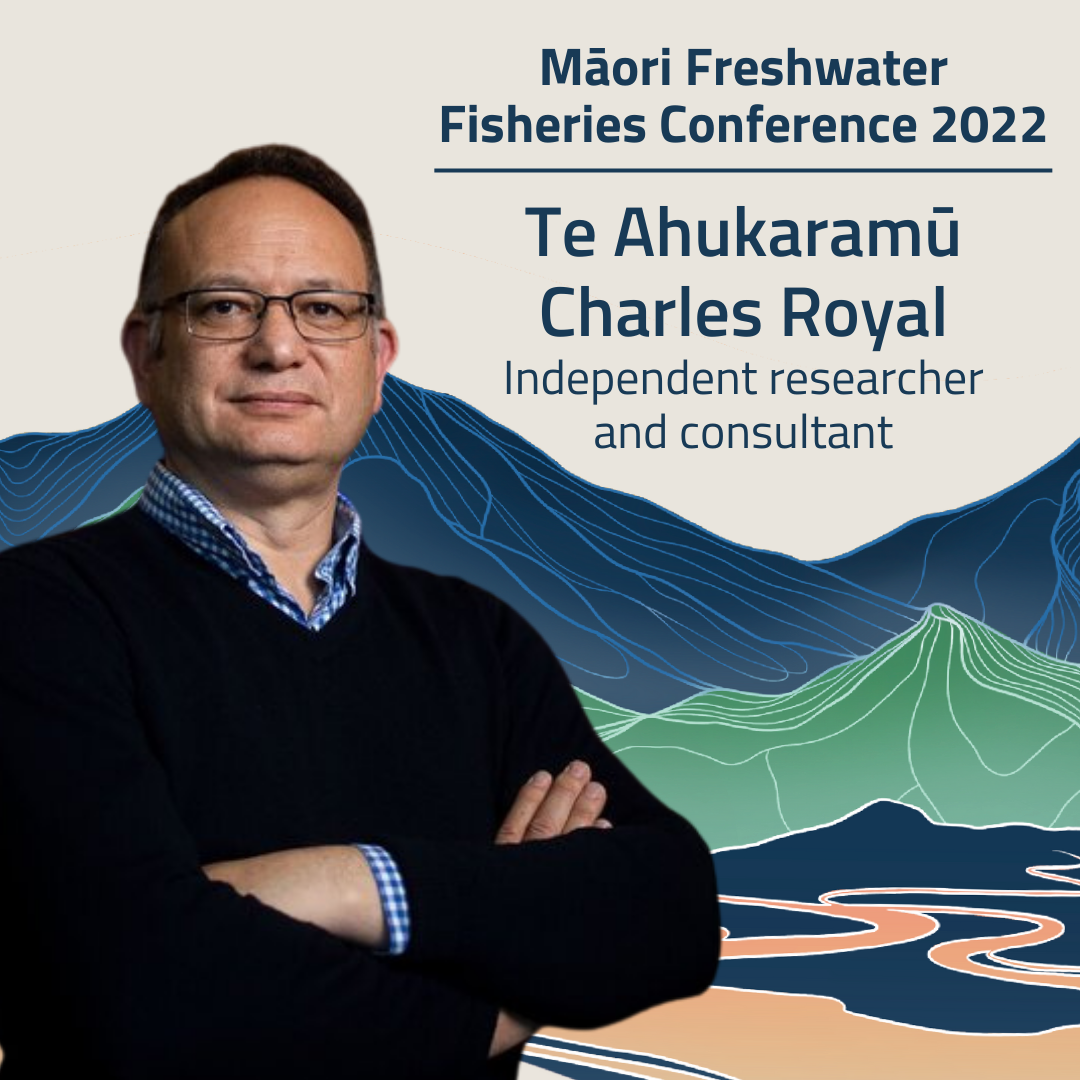 Dr Te Ahukaramū Charles Royal
Marutūahu, Ngāti Raukawa, Ngāpuhi
Researcher and consultant
Te Ahukaramū is a composer and performer of music and story and a researcher and teacher of indigenous knowledge including mātauranga Māori and iwi histories and traditions. He also advises and leads various projects and people, particularly to do with the 'creative potential' of the indigenous Māori dimension of Aotearoa-New Zealand.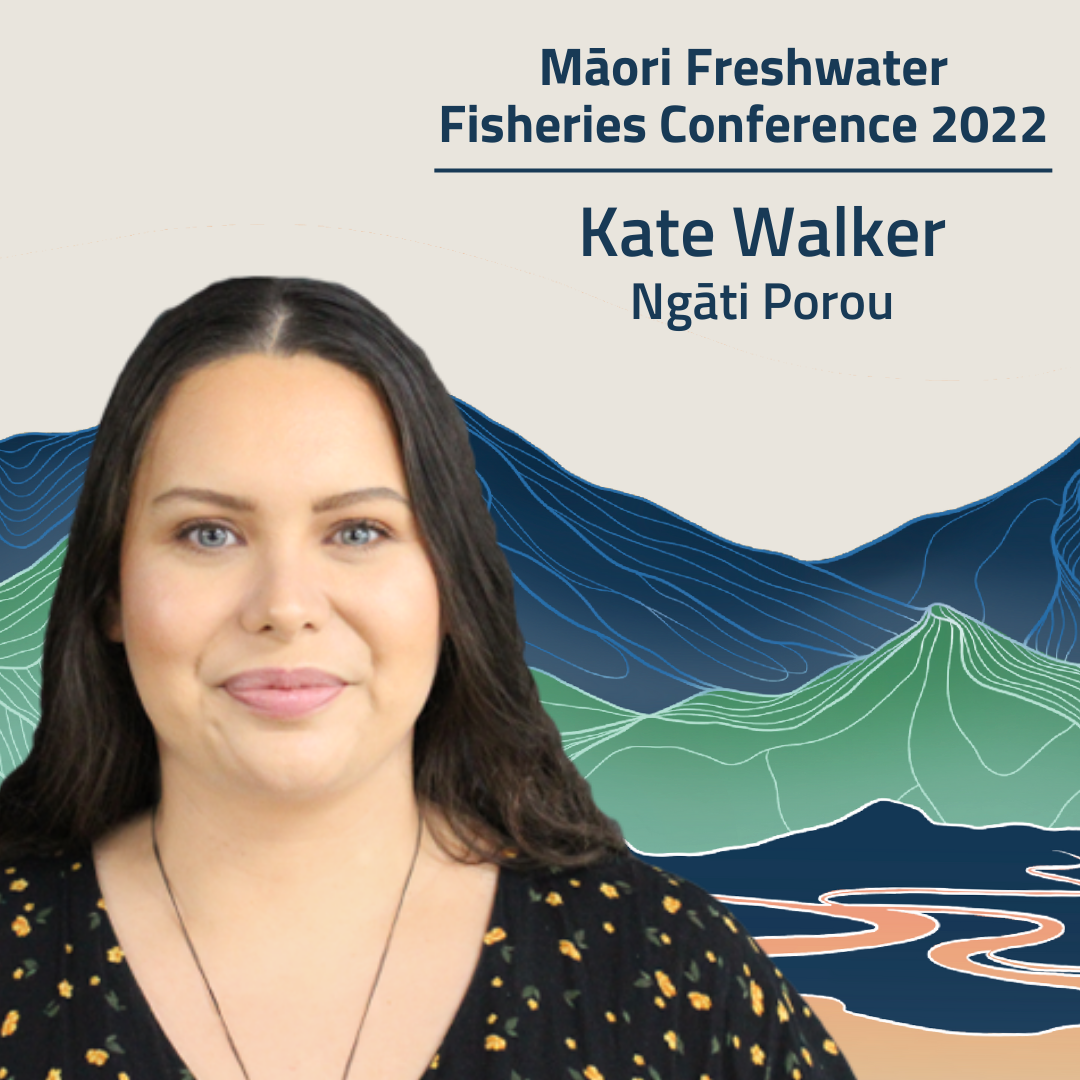 Kate Walker
Ngāti Porou
Project Manager (Taiao), Te Rūnanga o Ngāti Porou
Kate is an environmental scientist and hapū practitioner currently working for Te Runanganui o Ngāti Porou to navigate and manage complex environmental issues faced by whānau, hapū and iwi.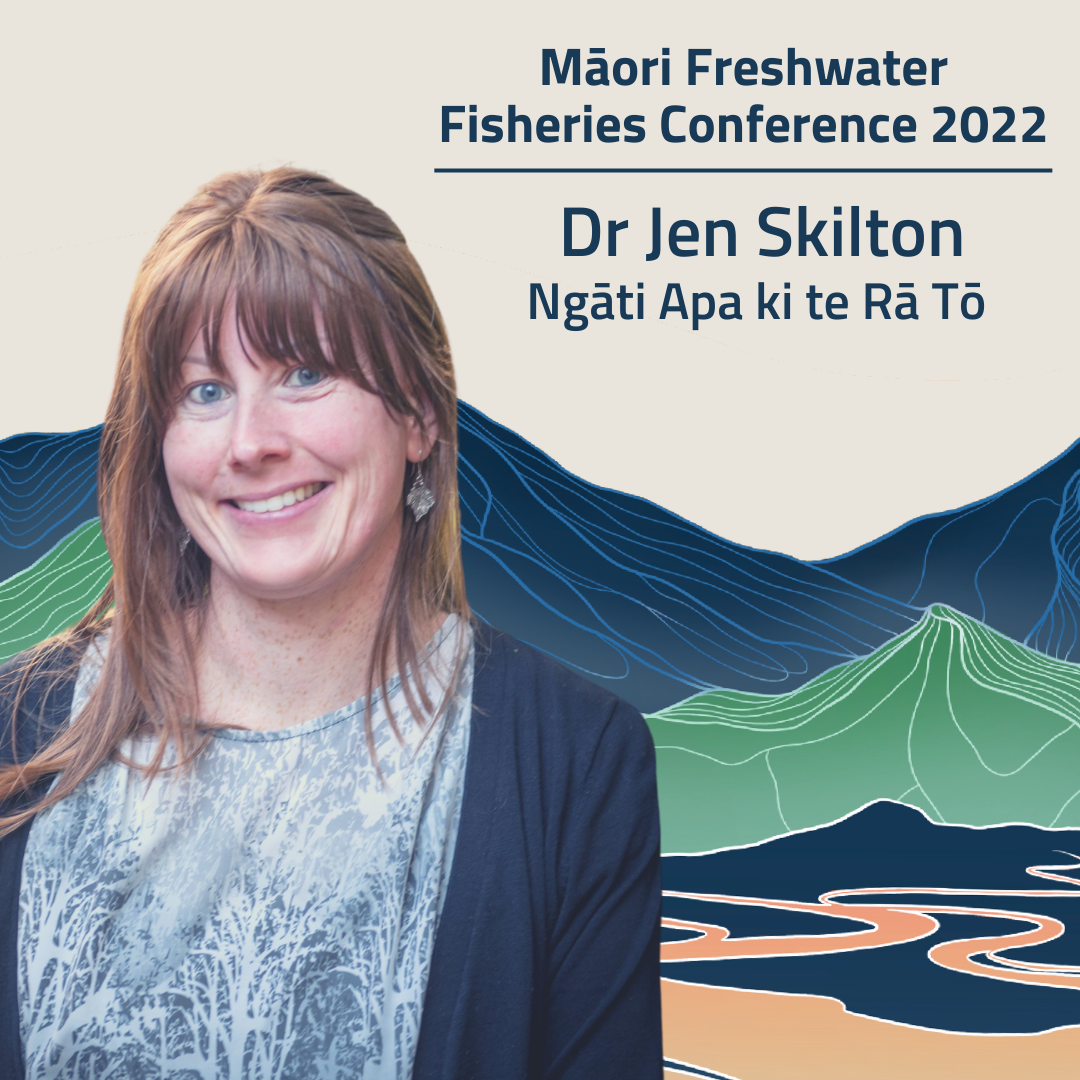 Dr Jen Skilton
Te Ātiawa
Pou Taiao,  Ngāti Apa ki te Rā Tō
Jen is the Pou Taiao for Ngāti Apa ki te Rā Tō and is passionate about ecology and the implementation of effective management strategies to sustain and protect New Zealand's natural assets. This kaupapa, focusing on the tuna population at Rotoroa in Nelson Lakes National Park, combines Māori approaches and scientific methods with the aim of ensuring that cultural harvesting is sustainable. At the heart of this mahi is the sharing of mātauranga Māori and facilitating the intergenerational transfer of cultural knowledge. Population counts, length-weight measurements, and aging of the tuna using the otoliths extracted from harvested individuals provide further insight into the structure of the population.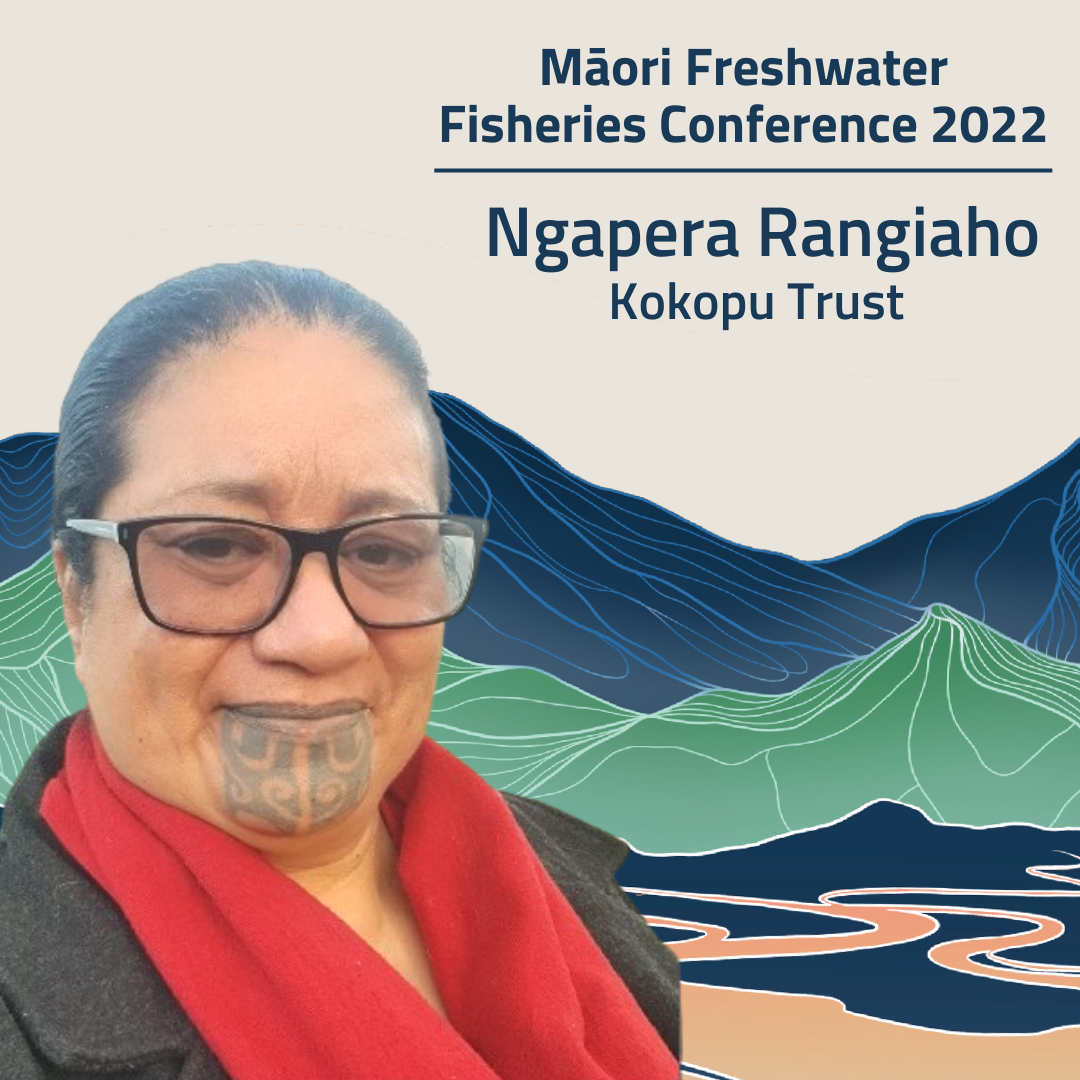 Ngapera Rangiaho
Ngāi Tūhoe, Ngāti Awa
Chairperson, Kokopu Trust
"Me ko Matariki, e ārau ana, he tiki mai tāhau i ngā mahara. E kohi nei, whakarere ake, na te roimata ra koua riringi. He puna wai kai aku kamo" – Treasured memories must go to all those who have touched our hearts and souls, who now grace the night skies.
Ngapera's humble beginnings as a community support worker and caregiver to becoming the voice of Ngāi Tūhoe on the Rangtaiki River Forum and Director for Tūhoe Fisheries Quota Ltd is a journey that continues to grow. Her pathway crossed with the late Bill Kerrison where the two worked in unison, Bill out in the field doing what he loved and Ngapera at the table pushing for accountability. Now as Chair of Kokopu Trust, she continues to work with Bill's whanau in the trap and transfer of our tipua tuna over both Matahina and Aniwhenua Dam. Ngapera represents her community of Waiohau on the Murupara Community Board and has raised her hands to stand on the Whakatane District Council for Toi ki Uta Māori Ward. She is also a Trustee on various land trusts. Regardless of titles, the message is still the same… manaaki tetahi ki tetahi.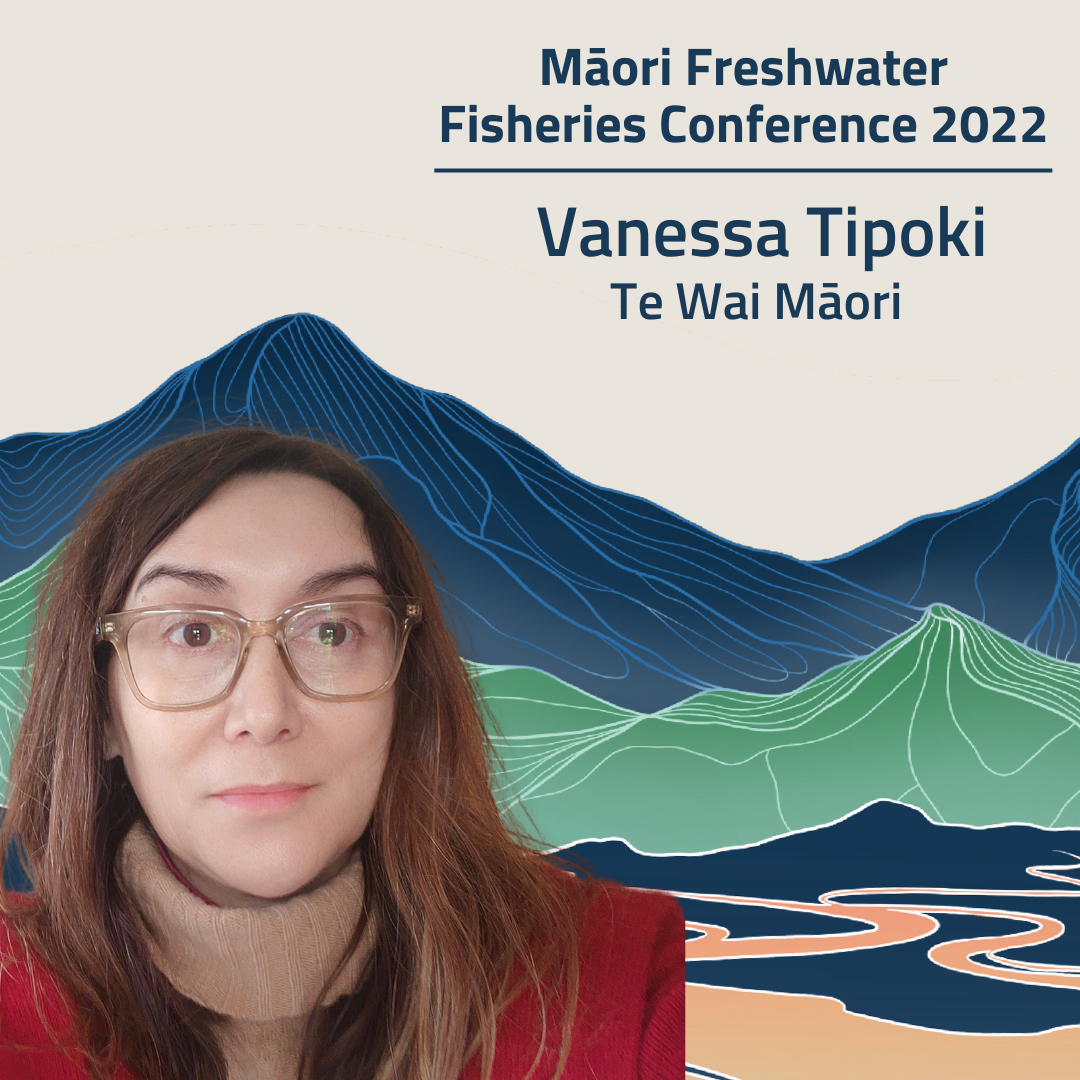 Vanessa Tipoki
Ngāti Kahungunu ki te Wairoa
Wai Tere/Principal Advisor – Te Wai Māori Trust
Vanessa is a Principal Advisor at Te Wai Māori Trust having recently joined the organisation after working as a Director and Senior Planner at Kāhu Environmental consultancy. Vanessa has a background in law, is a sheep and beef farmer, and has worked as a resource management planner since 2008. She has a particular passion for freshwater and was instrumental in partnering with iwi to develop Te Mahere Wai and the Wairarapa Moana Wetlands Restoration Plan. Vanessa has worked with iwi, hapū, central government, the regional sector and NGOs in the freshwater space. She also led a local initiative with Pirinoa whānau to rescue and release native fish stranded during the 2015/2016 droughts.
At the conference, Vanessa will talk about her involvement in the Ruamāhanga and Te Whanganui-a-Tara Whaitua Processes and what the new freshwater reforms have meant for tangata whenua in the Wellington region.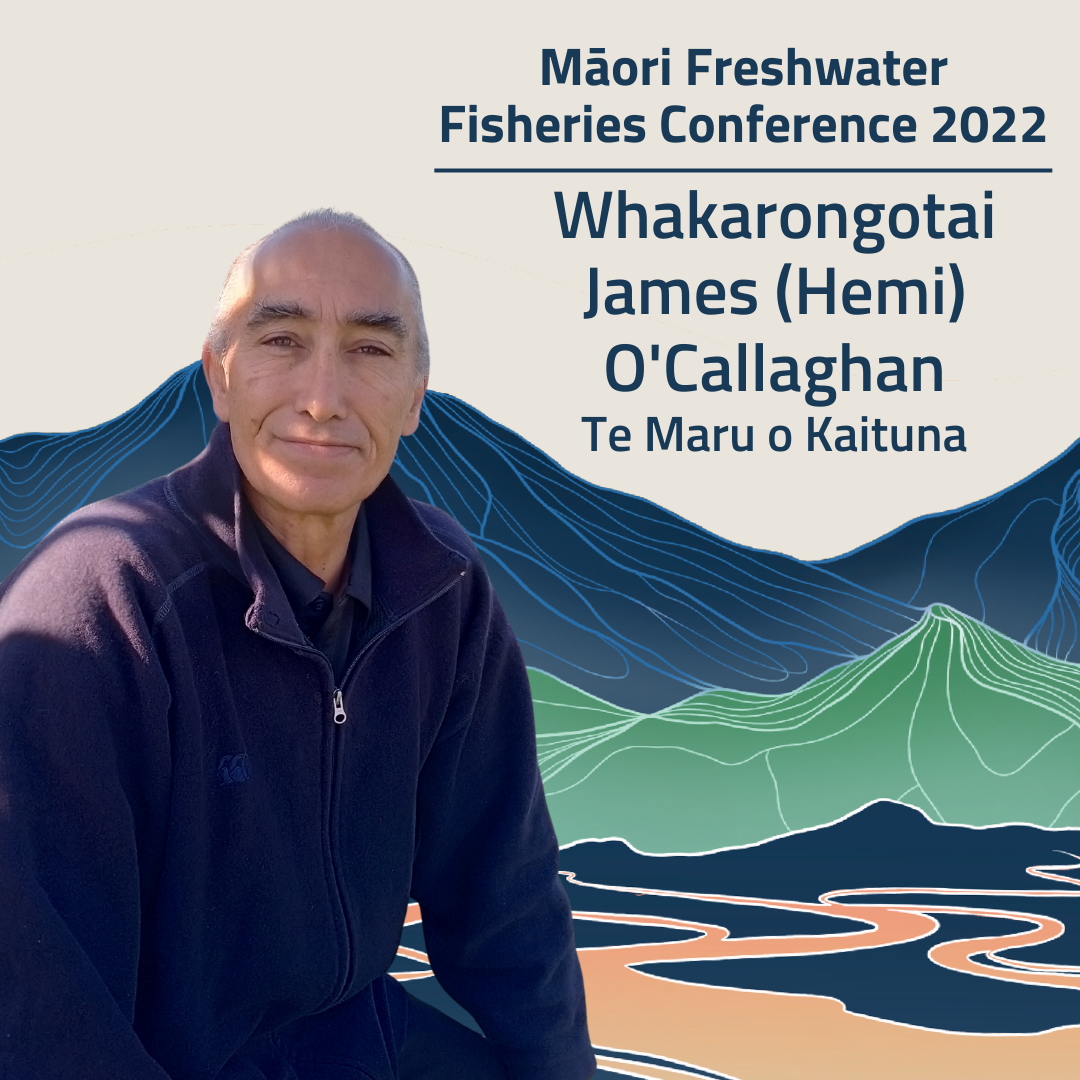 Whakarongotai James (Hemi) O'Callaghan
Tapuika, Waitaha, Ngāti Whakaue
Research Lead, Pātaka Kai Project on behalf of Te Maru o Kaituna River Authority
Whakarongotai James (Hemi) O'Callaghan is an environmental educator and māramataka practitioner, who is passionate about the taiao and his people. He strives to ensure that all mahi is grounded in tikanga; kawa and kaitiakitanga and results in better outcomes mō ngā mokopuna o āpōpō. Hemi is the Research Lead of the Pātaka Kai Project on behalf of Te Maru o Kaituna River Authority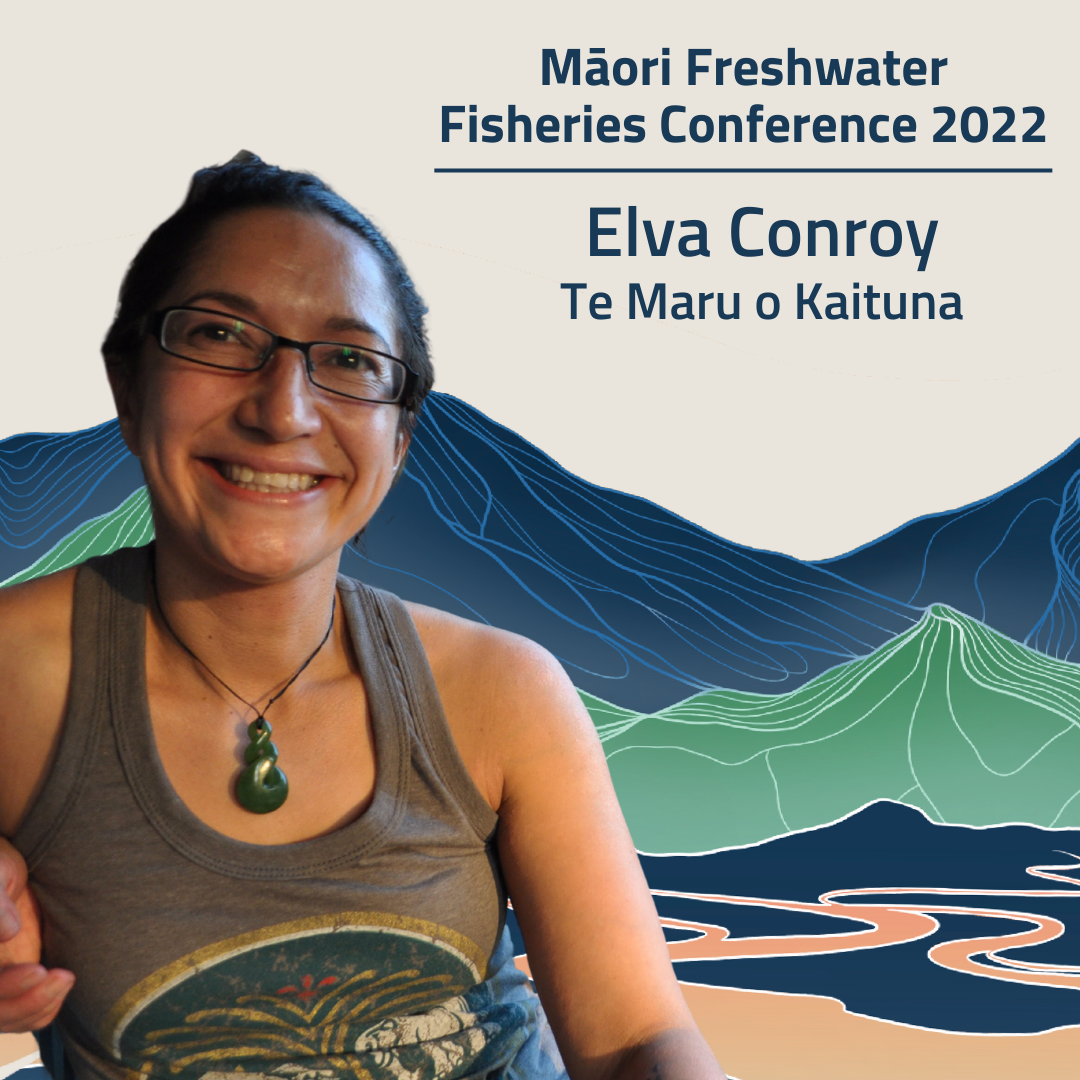 Elva Conroy
Tapuika, Tuhourangi
Project co-ordinator, Pātaka Kai Project on behalf of Te Maru o Kaituna River Authority
Elva Conroy is a planner who specialises in strategic and resource management planning. She is an award winning writer of multiple Iwi Management Plans and passionate about incorporating cultural frameworks in plan documents and processes. Elva is the Project co-ordinator of the Pātaka Kai Project on behalf of Te Maru o Kaituna River Authority.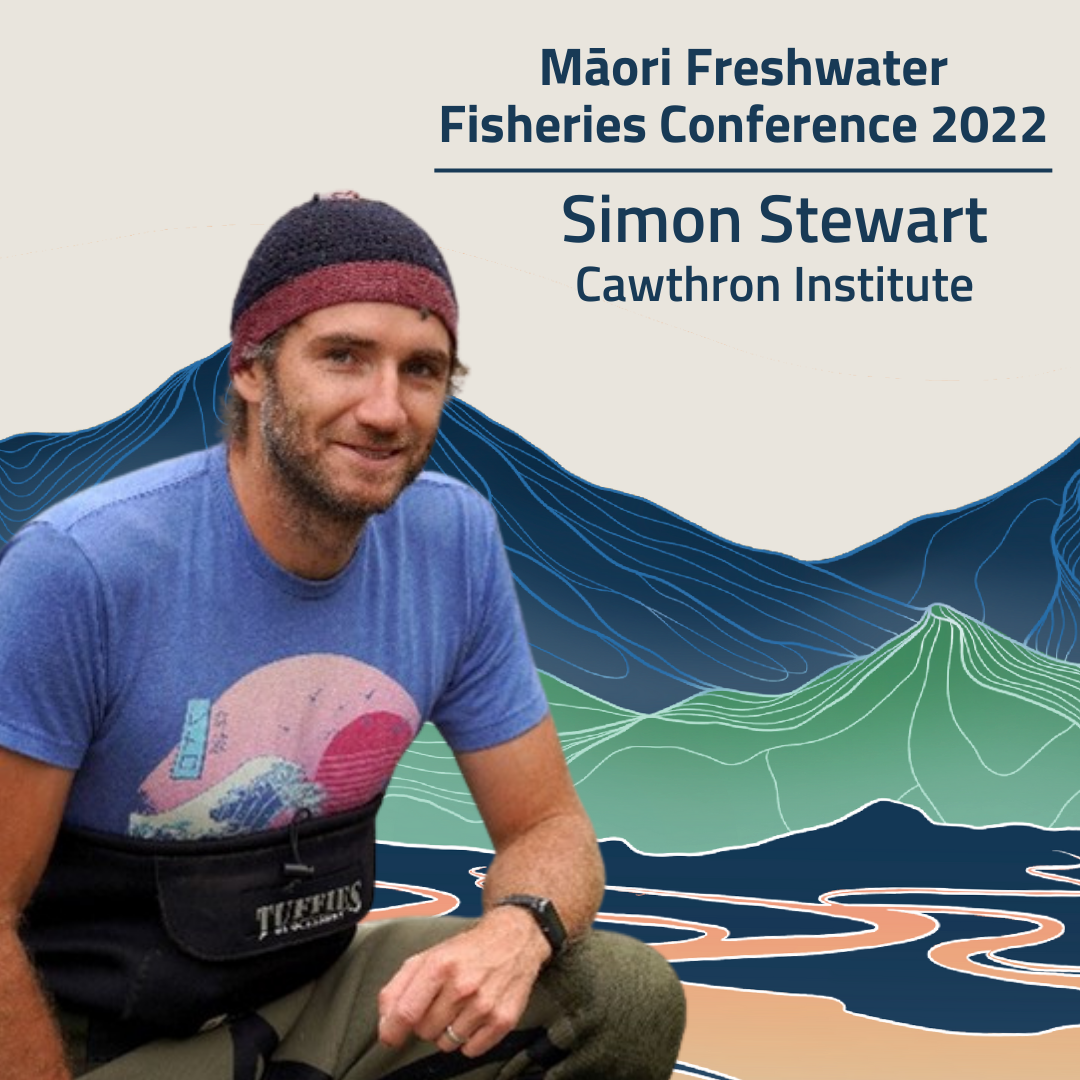 Simon Stewart
Ngāti Kahungunu
Ecologist, Cawthron Institute
Simon is an ecosystem ecologist who researches nutrient cycling and food web processes. A common theme running through his research is identifying connectivity within and between ecosystems. Simon has applied this research across the aquatic spectrum from headwater streams through to lakes and estuaries.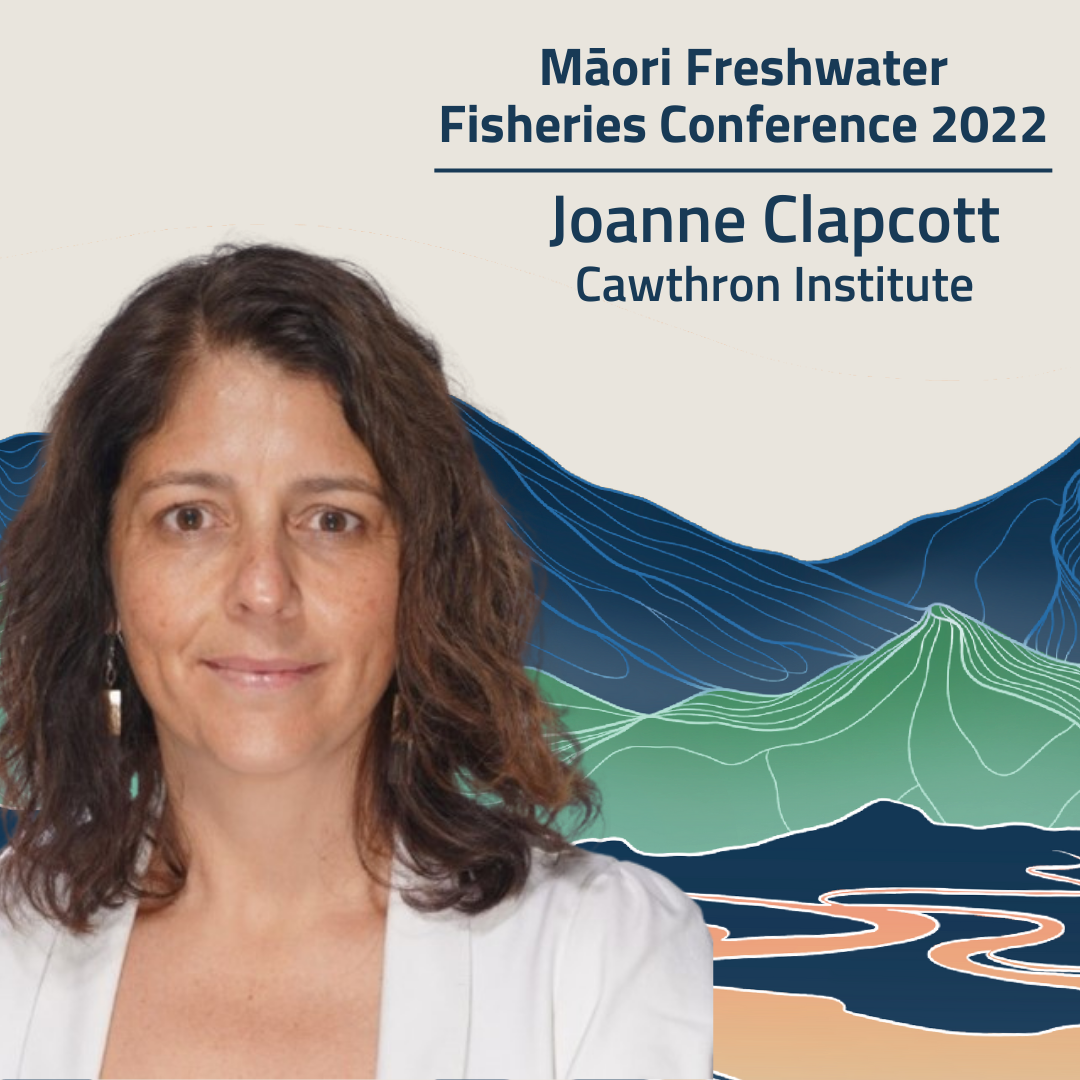 Joanne Clapcott
Ngāti Porou
Freshwater Ecosystems – Team Leader, Cawthron Institute
Joanne is a freshwater ecologist with a strong interest in the connectivity within and among freshwater ecosystems, including people. She has researched the interaction between land uses and waterways in small headwater streams to desert billabongs in Australia through to urban streams and large non-wadeable rivers in Aotearoa. She has helped develop frameworks and standardised indicators for the assessment and reporting of river health. In the Fish Futures programme, Joanne co-leads an enthusiastic team focussed on applied research that has impact, ultimately to improve environmental wellbeing and achieve holistic and just fish management.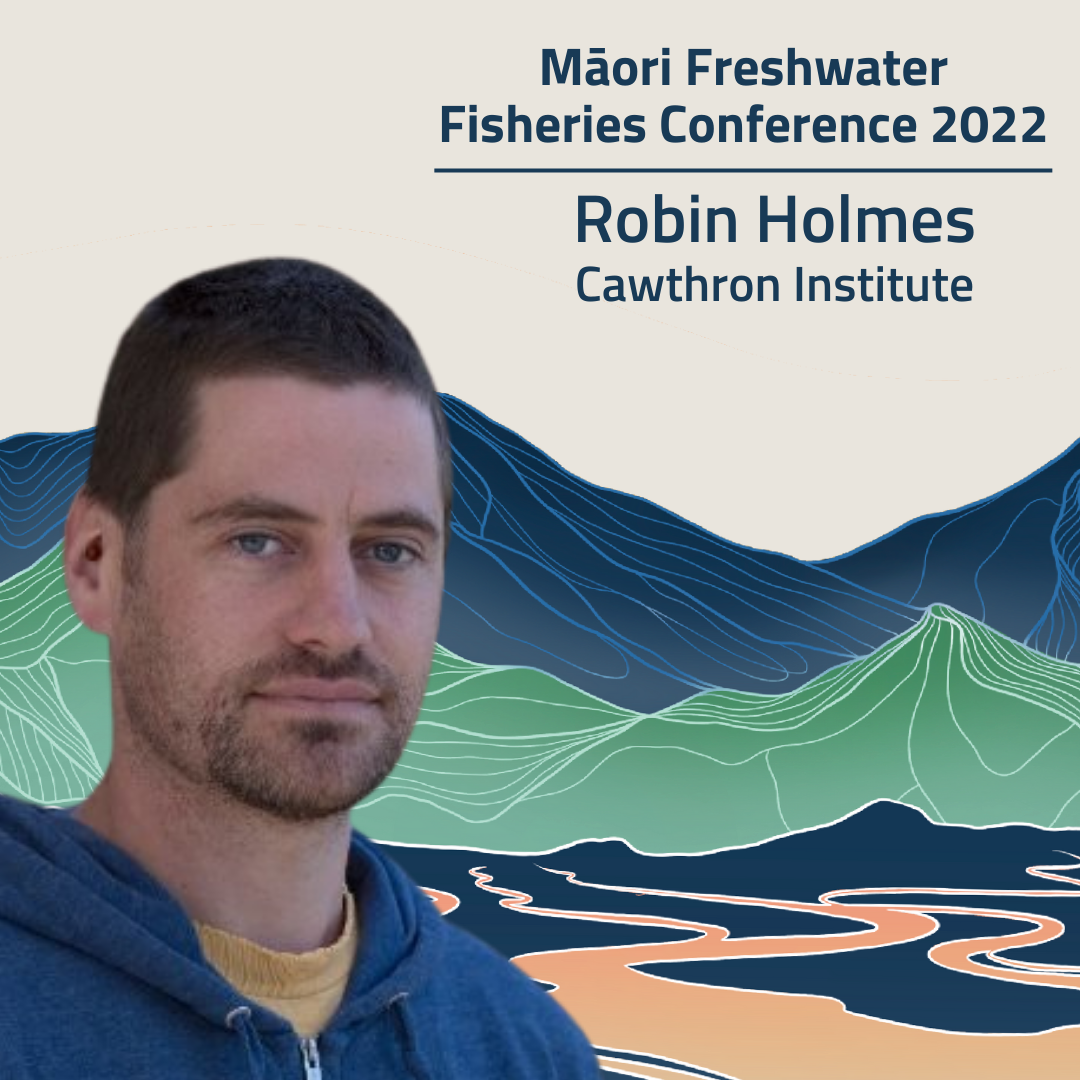 Robin Holmes
Freshwater ecologist, Cawthron Institute
Robin is a freshwater ecologist at the Cawthron Institute. He has a research focus on freshwater fish and fisheries, within the wider context of river health. Recently, he has been involved in projects to enhance freshwater ecosystems within agricultural landscapes—through actively restoring physical / structural habitat and promoting alternative land and stream management practices. He has a co-lead role supporting the MBIE-Endeavour Fish Futures programme and will be investigating how introduced and native fish communities will respond to our changing climate.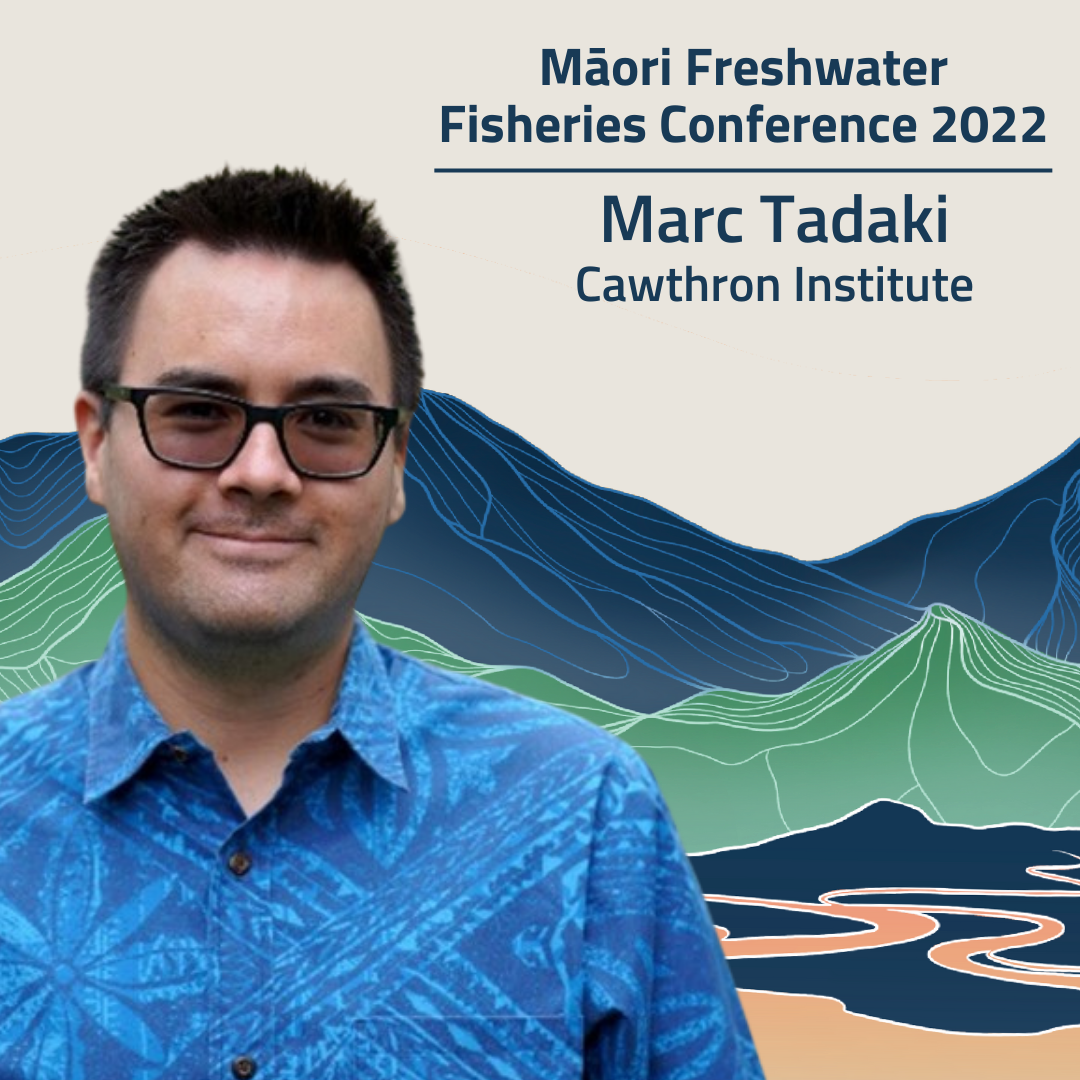 Marc Tadaki
Social Scientist, Cawthron Institute
Marc is a human geographer with interests in people-place relationships, environmental values, and freshwater management. His research has investigated implementation of freshwater policy by regional councils, cultural monitoring of freshwater, and the use of knowledge in environmental decision making. As a co-lead of the Fish Futures Endeavour research programme, Marc is committed to building transdisciplinary knowledge practices that uphold the mana of iwi research partners and strengthen whānau capacity and capability in freshwater management. Within Fish Futures, Marc's research will explore New Zealander's values and connections to freshwater fish, as well as conduct knowledge synthesis aimed at fostering holistic and just freshwater fish management.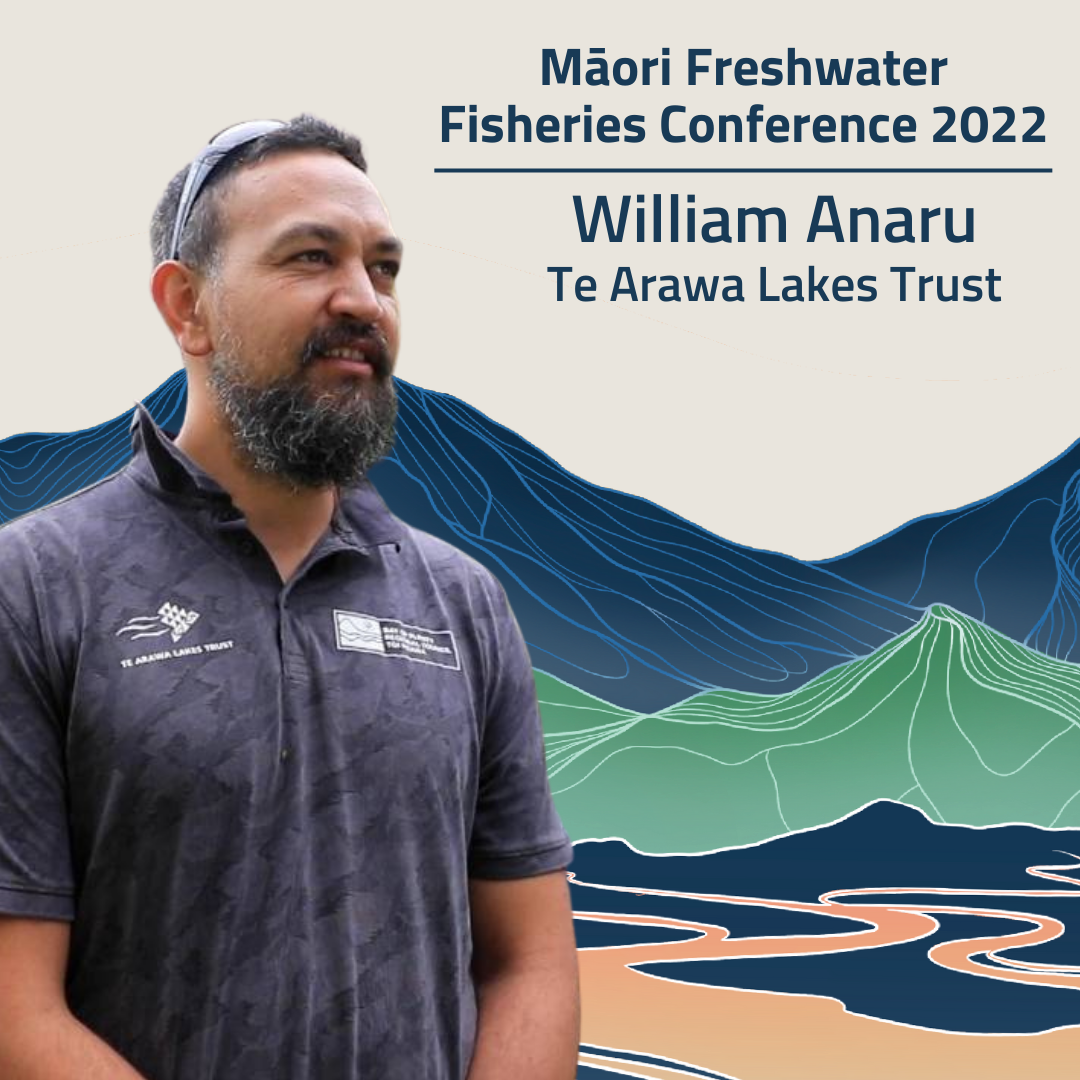 William Anaru
Te Arawa, Ngāti Tūwharetoa, Te Whānau ā Apanui
Operations Manager – Biosecurity and Jobs for Nature
I grew up in Rotorua and spent most of my free time in the lakes with my whanau fishing, swimming and just exploring so a future in science and looking after our taiao was an easy choice. I completed my BSc in Marine Biology and Ecology at Vic Uni in 2006 and have had a variety of roles since. In 2018, I started at Te Arawa Lakes Trust as the Coordinator for the Community Catfish Response and we were fortunate enough to win two Supreme awards (NZ biosecurity Awards 2019 and Society of Local Government Managers 2020). Since then, our mahi in our lakes has grown to include a wetland restoration team, Dive team and Maritime team that carry out a variety of biosecurity, restoration and monitoring mahi.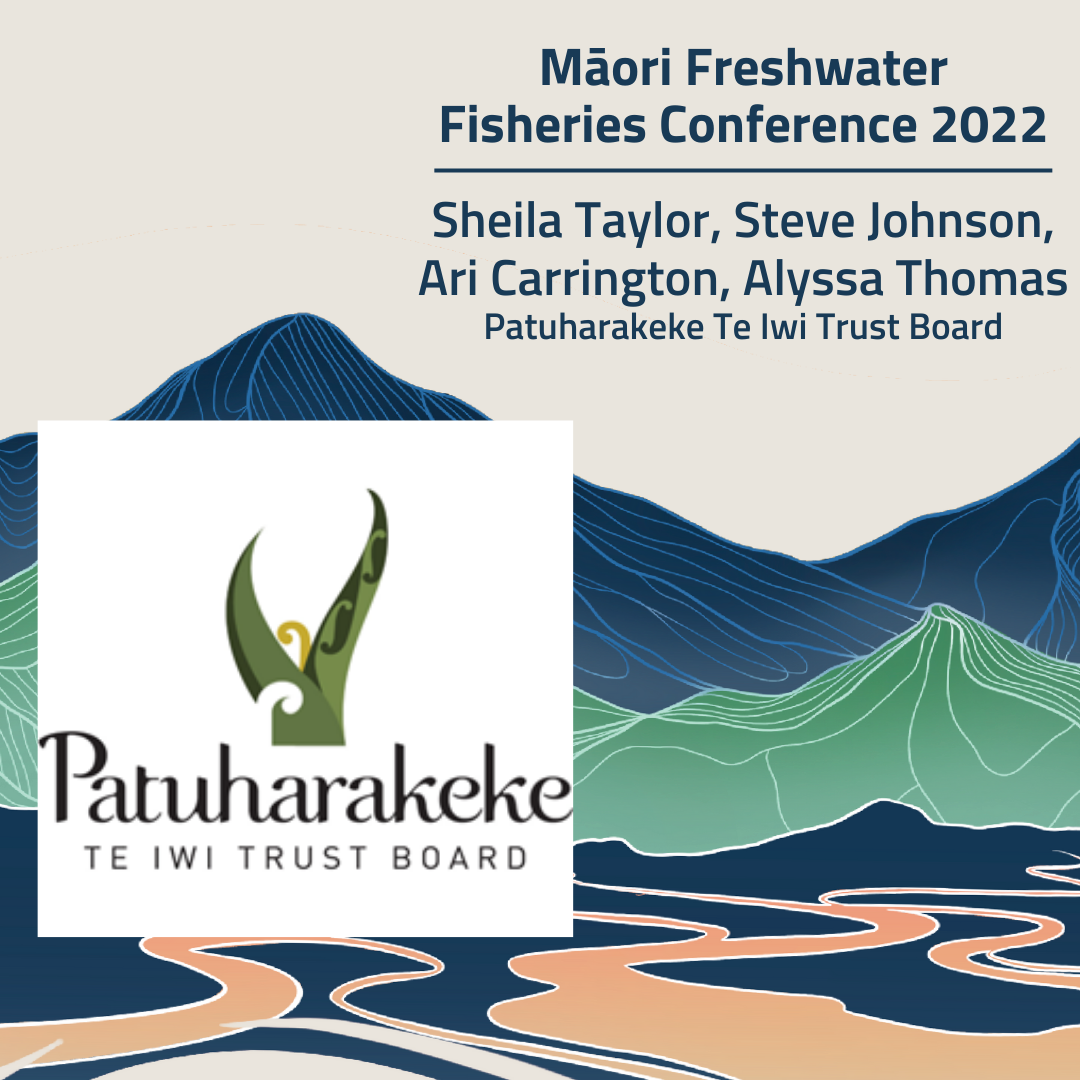 Patuharakeke Te Iwi Trust Board
Sheila Taylor, Steve Johnson, Ari Carrington, Alyssa Thomas
More so now – than ever, the rohe of Patuharakeke is under immense pressure from urban and industrial growth and development. With a strong focus on succession planning, this session will focus on intergenerational aspirations in a time where both legislative reform and industrialisation are creating uncertainty for their mahi within the taiao. An overview of the history of Patuharakeke, the present mahi being undertaken by the Patuharakeke Taiao Unit and the future aspirations of their taitamariki will be shared. The aspirations of Patuharakeke will be conveyed via kōrero relating to the Pukekauri ngahere and the Takahiwai dam which was taken out of hapū ownership via the Public Works Act in the 1960s.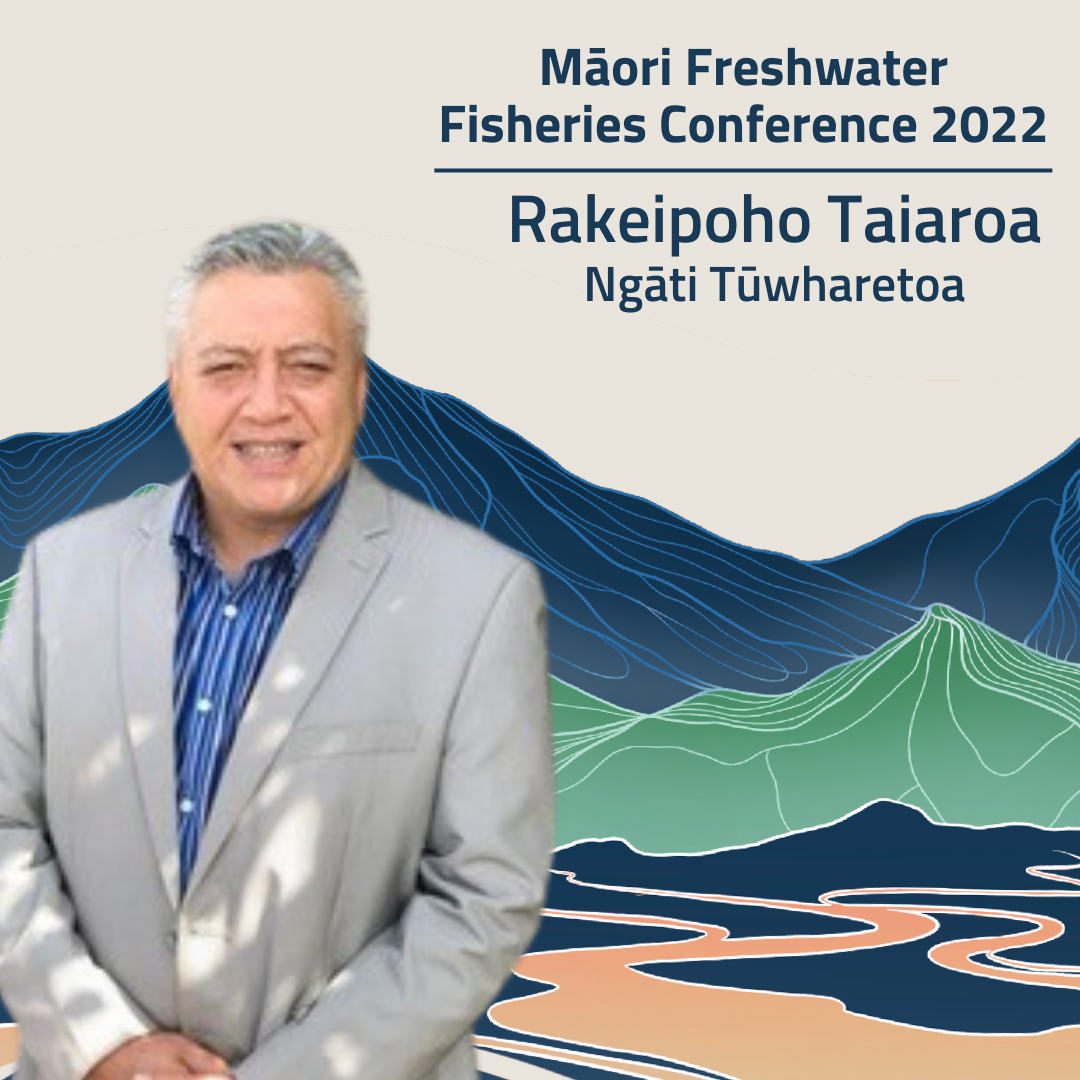 Rakeipoho Taiaroa
Te Arawa, Ngāti Tūwharetoa, Te Whānau ā Apanui
Commercial Manager and Interim CEO, Tūwharetoa Maori Trust Board.
Rakei has had a long career with both Ngāti Tūwharetoa and Tūwharetoa Māori Trust Board. Rakeipoho lead many negotiations with the Crown and SOEs regarding Lake Taupō and Lake Rotoaira Freshwater Fisheries Rights, and Tūwharetoa land tenure rights. Of note was the 2007 Lakebed Deed with the Crown solidifying the ownership of the bed, the water column and airspace of Lake Taupō and its tributaries. He also was part of the Tūwharetoa negotiation team with Te Arawa that argued for the protection of existing Freshwater Fishery held by iwi which promulgated the establishment of Te Wai Māori Trust. In addition, Rakeipoho has extensive experience in commercial freshwater fisheries, Māori land management, carbon trading, manuka honey and commerce.
Rakeipoho is currently the Chair of the Tūwharetoa Settlement Trust and Waihi Pukawa Trust, Deputy Chair of Lake Rotoaira Trust, and Commercial Manager and Interim CEO of Tūwharetoa Maori Trust Board.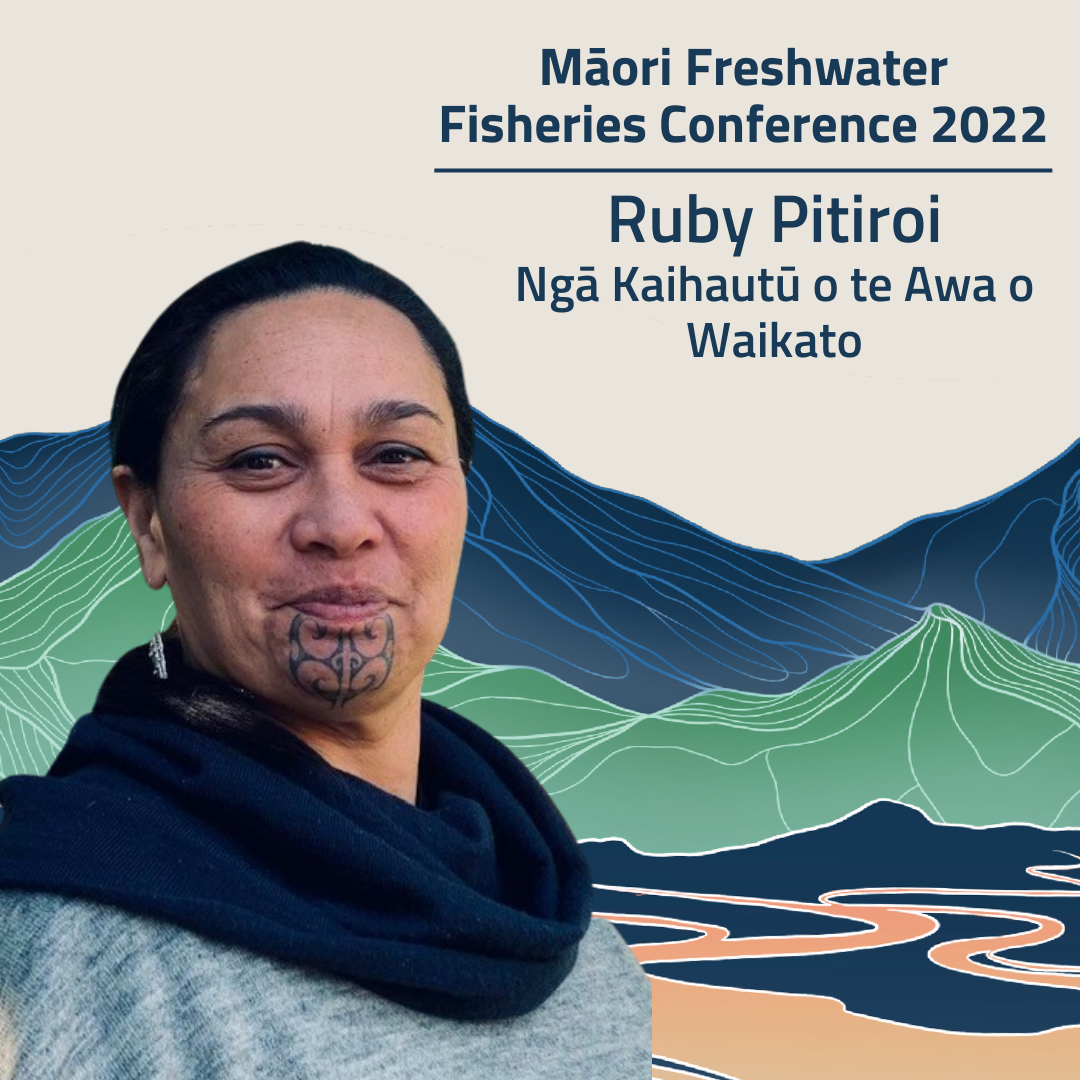 Ruby Pitiroi
Ngāti Tūwharetoa, Ngāi Tai ki Tōrere, Ngāti Whakatere
Chair, Ngā Kaihautū o te Awa o Waikato
Ruby is the chairperson of Ngā Kaihautū o te Awa o Waikato, a committee of representatives from Tūwharetoa hapū adjoining the Waikato River, inspiring and implementing initiatives for the upper Waikato Awa. Her background in Kura Kaupapa Māori education spans 25 years. Her long-standing interest, study and participation in water rituals based on tribal traditions continues through her current doctoral research at Victoria University of Wellington.
In 2019, 44,000m3 of geothermal fluid and sediment was unlawfully discharged from Contact Energy's Wairākei Geothermal Power Station into the Waipūwerawera Stream and Waikato River. Ruby presented evidence as an expert witness in this and other significant district and environment court proceedings. Her presentation shares aspects of the trauma and healing that emerged from the Karapiti incident.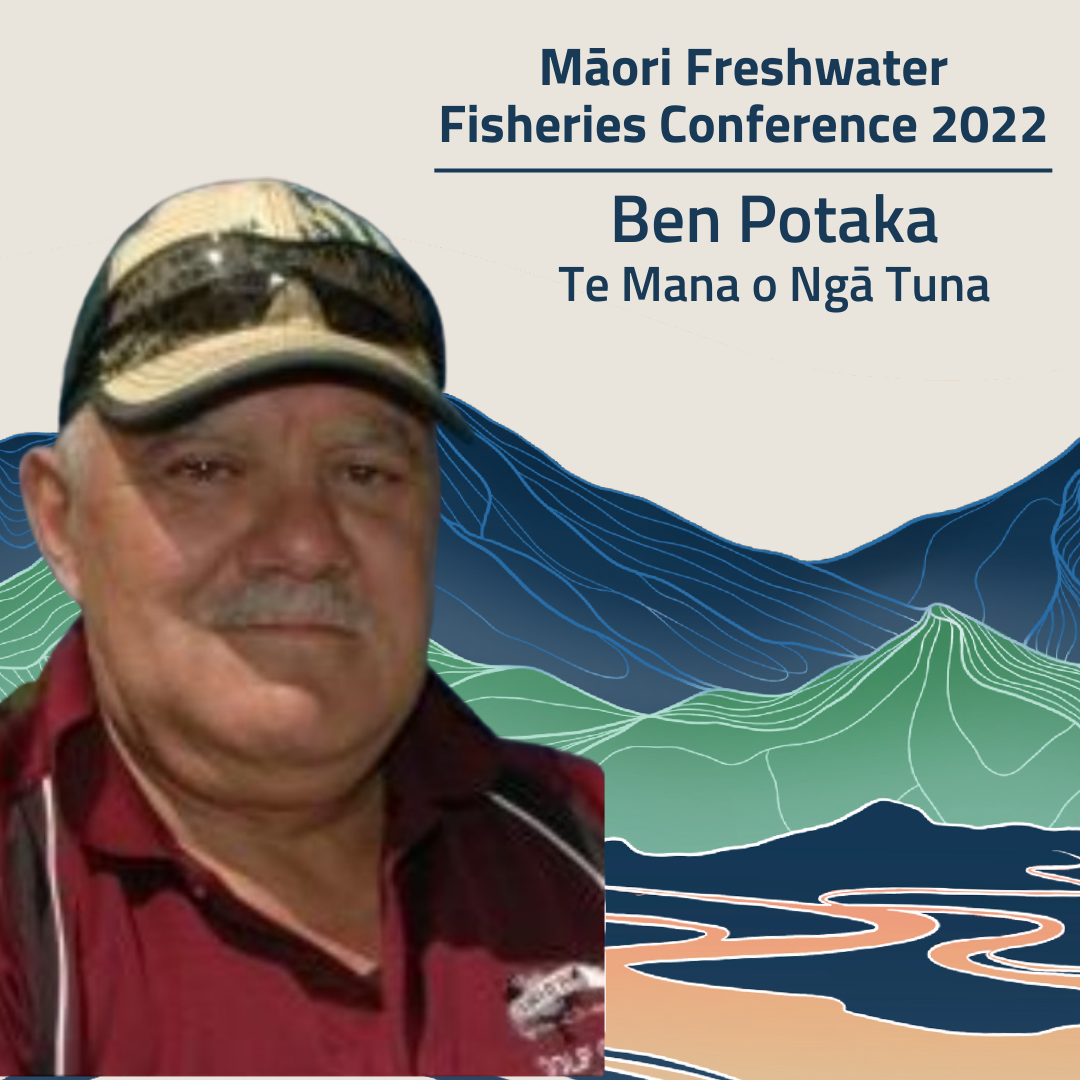 Ben Potaka
Ngāti Tuera, Te Ati Haunui-a-Pāpārangi, Te Whānau-ā-Apanui and Ngāti Raukawa ki te Tonga
Chair, Te Mana o Ngā Tuna
Whanganui tuna expert and Chair of Te Mana o Ngā Tuna, Ben Potaka will be presenting at the conference on the extraordinary life cycle, endurance, and navigation of longfin tuna, who travel from the ocean to the headwaters of Aotearoa's rivers. Raised on the Whanganui Awa, Ben completed his research into the longfin tuna and its life cycle in 2008 and credits his passion and knowledge as a privilege and responsibility passed down to him by his kaumatua.
Ben helped develop the Whanganui Catchment Wide Strategy which aims to advance the protection, management, and sustainable use of freshwater fisheries in the catchment. Ben says his success will be measured in 50 years' time – by whether Whanganui still has tuna left to catch. Ben learnt about tuna and other river fish from the old people who he worked alongside by listening, experience, waiata, karakia and whakapapa. He hopes that this intergenerational exchange of knowledge will continue so that tangata whenua can act as kaitiaki to protect this precious taonga for generations to come.
Special guest performance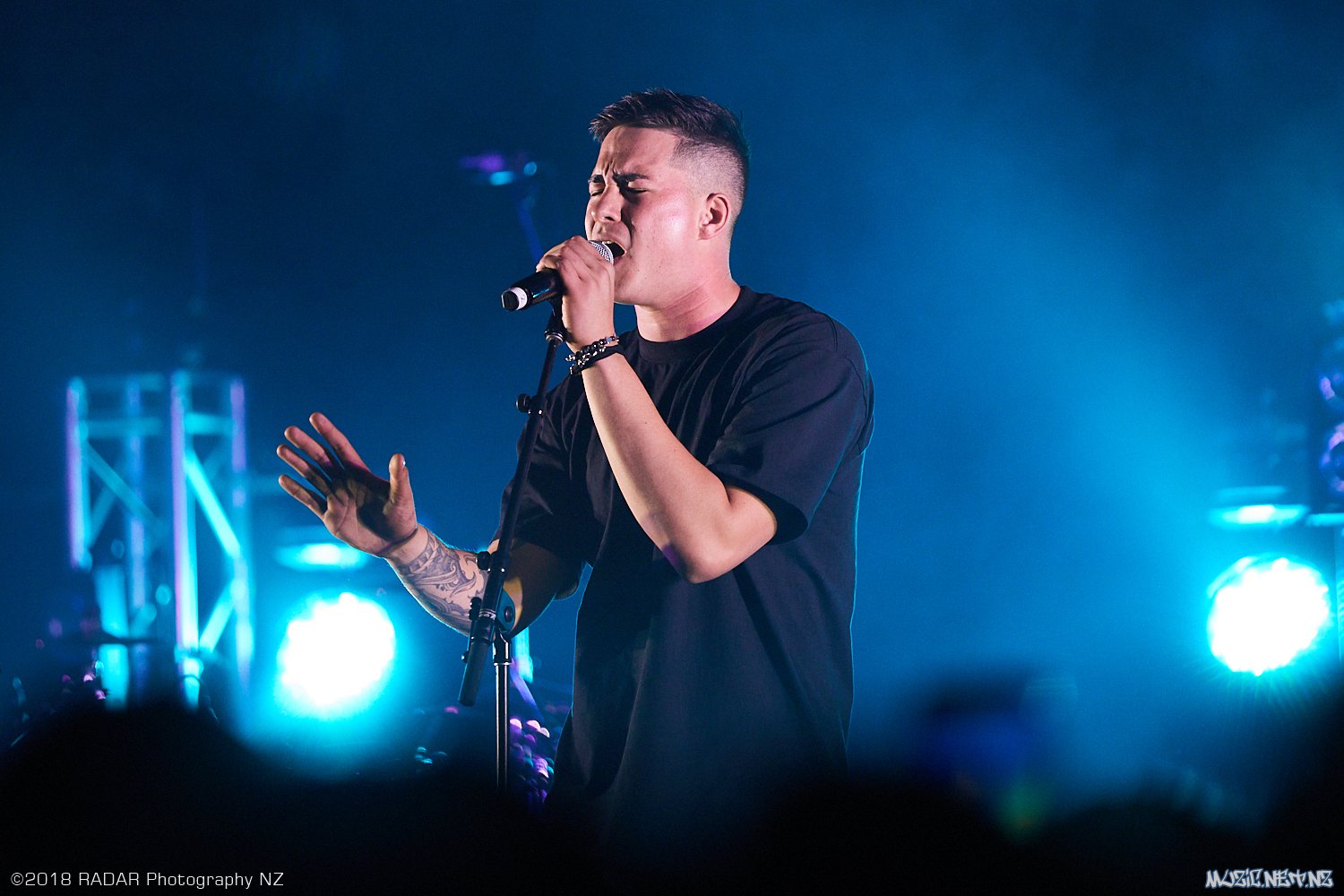 Internationally acclaimed soul and R&B singer, Jackson Owens (Ngāti Tūwharetoa, Ngāti Awa, Te Arawa, Ngāi Tahu) will be our guest performance for the official Māori Freshwater Fisheries Conference dinner.
Born and bred in Tūrangi, Jackson's newly released EP 'For The Better' features aspects of R&B vibe and soul, two genres that played a big part in Owens' childhood growing up in the rohe.
Jackson also recently collaborated with Sons of Zion with the waiata, He Aroha Hinemoa, reaching top three on the Te Reo Māori singles chart, in addition to collaborating with Te Matatini on a rendition of Te Whānau a Apanui's Te Ao Muhurangi for the Matatini 50 year album.
If you would like to attend the conference dinner and evening function, please check the conference dinner box on the registration form.
Tō tātou kaiwhakataki – Introducing our MC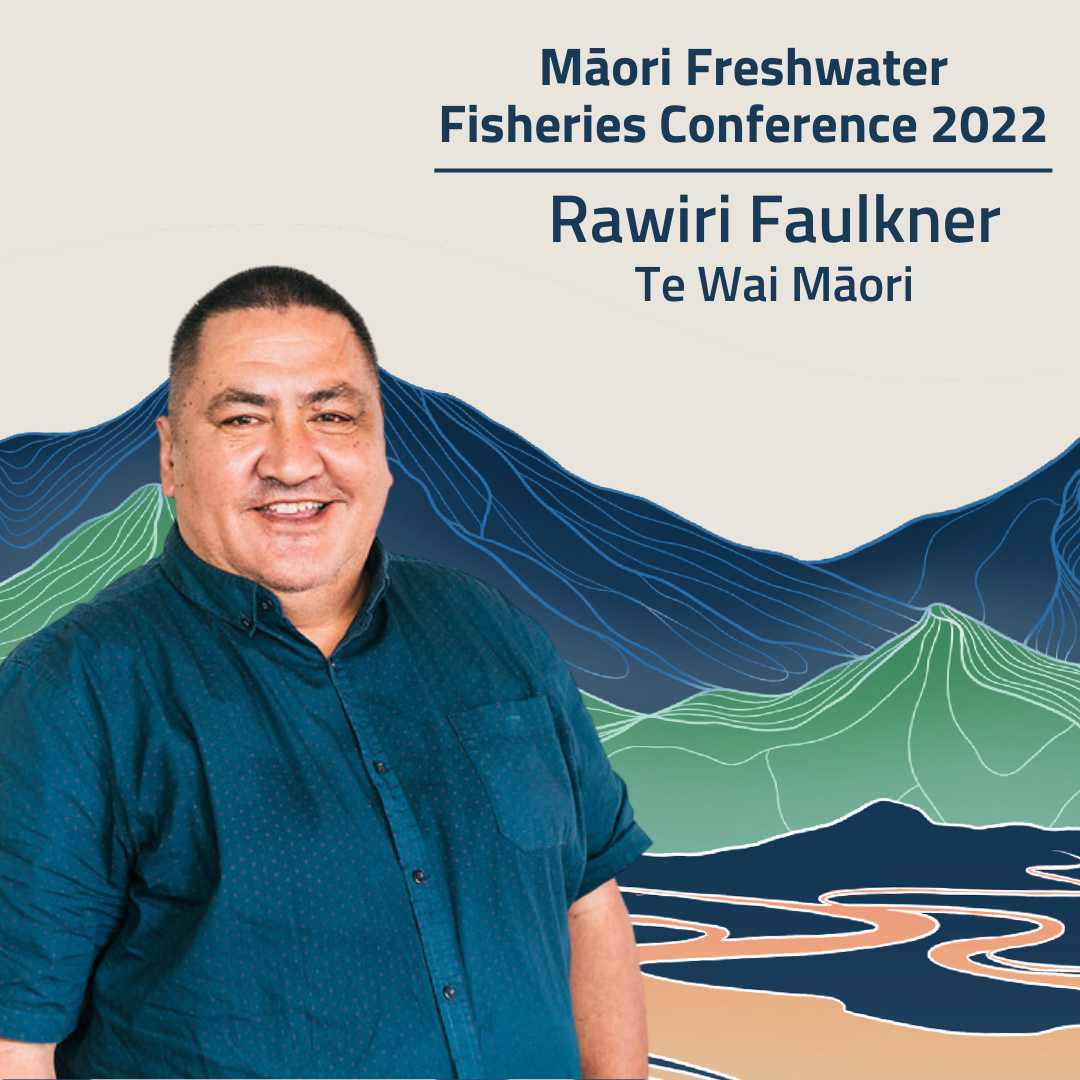 Rawiri Faulkner
Ngāti Whakaue, Ngāti Raukawa ki te Tonga, Ngāti Toa Rangatira, Ngai Te Rangi
Director, Te Wai Māori
Rawiri is an experienced Senior Executive and Director, having held senior roles in Local Government and Crown Agencies. Rawiri is currently employed by Ngāti Toa Rangatira as Partnership Manager on the Te Aranga Alliance in Porirua. He is also an experienced Hearing Commissioner having served on a number of consent hearings, plan reviews and fast-track consents.
Along with his wife Linda, Rawiri has also worked with a number of iwi developing strategic plans and government procurement applications. Rawiri brings a wealth of experience to his role within Te Wai Māori Trust and as kaiwhakataki for this huihuinga.